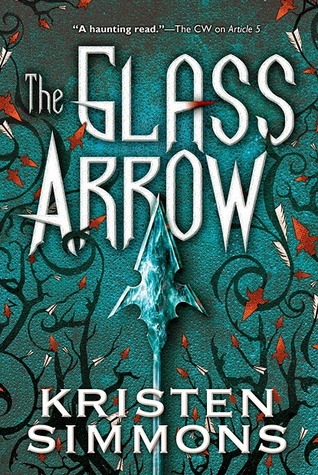 The Glass Arrow by Kristen Simmons
Published: February 10, 2015 by Tor Teen
Pages: 336
Goodreads Summary: The Handmaid's Tale meets Blood Red Road in Glass Arrow, the story of Aya, who lives with a small group of women on the run from the men who hunt them, men who want to auction off breeding rights to the highest bidder.
In a world where females are scarce and are hunted, then bought and sold at market for their breeding rights, 15-year old Aya has learned how to hide. With a ragtag bunch of other women and girls, she has successfully avoided capture and eked out a nomadic but free existence in the mountains. But when Aya's luck runs out and she's caught by a group of businessmen on a hunting expedition, fighting to survive takes on a whole new meaning.
Review: I was so excited to read this book!  I joined the recently formed Bloggers' Book Club and this was the first month's read.  I've wanted to read this book for awhile.  I was immediately drawn into this world that the author created.  It seemed so real, like it could be something that would happen in the future.  I loved the main character, Aya.  She was so strong and independent.  She was taken but continues to fight like hell against the system.  Her best friend in the city is a wolf named Brax.  While she is trying to avoid the auction block she meets Kiran, a driver who befriends her.  The way the author describes everything is so visual.  It's very easy to see the setting and what the characters look like.  I thoroughly enjoyed the storyline, the characters and the excitement!  Every time I picked the book up to read, I never wanted to put it down.  I only did because of work or sleep.  I really enjoyed this book and would recommend it to anyone.
4/5 stars