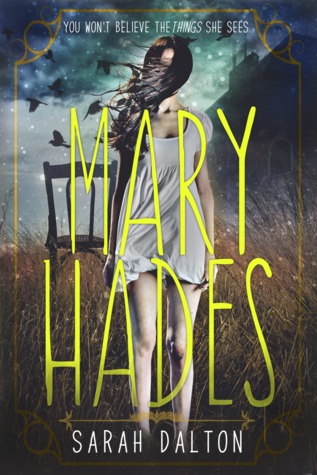 I received this copy through NetGalley in exchange for an honest review.
Mary Hades by Sarah Dalton
Published: April 30, 2014 by Createspace
Pages: 286
Buy From: Book Depository – Amazon
Goodreads Summary: Not many seventeen year old girls have a best friend who's a ghost, but then Mary Hades isn't your average teenager.
Scarred physically and mentally from a fire, her parents decide a holiday to an idyllic village in North Yorkshire will help her recover. Nestled in the middle of five moors, Mary expects to have a boring week stuck in a caravan with her parents. Little does she know, evil lurks in the campsite…
Seth Lockwood—a local fairground worker with a dark secret—might be the key to uncovering the murky history that has blighted Nettleby. But Mary is drawn to him in a way that has her questioning her judgement.
Helped by her dead best friend and a quirky gay Goth couple, Mary must stop the unusual deaths occurring in Nettleby. But can she prevent her heart from being broken?
The first in a series of dark YA novels, Mary Hades follows on from the bestselling Kindle Single 'My Daylight Monsters'. A spine-tingling tale with romance, readers will be shocked and entertained in equal measure.
Review: I was looking forward to reading this one because I was really in the mood for a good paranormal type book.  I had read the prequel to this book a month or so ago and enjoyed that so I was expecting to be equally, if not more, interested.  Sadly this was not the case.  This book was underwhelming.  In fact, for most of the book I was rather bored.  I wasn't at all creeped out by the ghost that was terrorizing Nettleby.  The main character got a little on my nerves.  Normally when I read a book, I want to feel pulled into the story and to connect with the characters.  Overall I just felt indifferent to anything happening.  The plot had a lot of potential to be a cool, creepy novel but it just didn't turn out that way in my opinion.  I would not recommend this book to anyone but I also wouldn't tell anyone to stay away from it.  It just wasn't for me.
2/5 stars