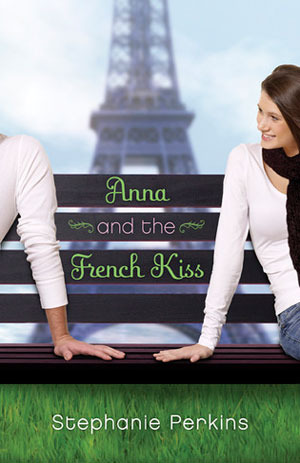 Anna and the French Kiss by Stephanie Perkins
Published: December 2, 2010 by Dutton Juvenile
372 Pages
Goodreads Summary: Anna is looking forward to her senior year in Atlanta, where she has a great job, a loyal best friend, and a crush on the verge of becoming more. Which is why she is less than thrilled about being shipped off to boarding school in Paris–until she meets Étienne St. Clair. Smart, charming, beautiful, Étienne has it all…including a serious girlfriend.
But in the City of Light, wishes have a way of coming true. Will a year of romantic near-misses end with their long-awaited French kiss?
Review: I read this book as part of the Reading My Library Challenge.  I had been reading a lot of dark and dense books lately so I was looking forward to something that sounded to be the opposite.  This book was like a fresh spring breeze.  I almost immediately was drawn into the story and felt a kinship with Anna.  A lot of the things that happened to her and her new friends in Paris sounded like similar situations I encountered with my friends in high school… but of course they had it better since they were in Paris!  I loved Etienne and hoped like hell that they would be able to work it out.  But even if they didn't, I loved their friendship.  It was fun seeing Anna experiencing the famous sights of Paris, especially when I would visualize my own experience when I was there in college.  I was more like Etienne though… happy to stand on the ground and look at the Eiffel Tower from there (although I did go to the top of l'Arc de Triomphe).  Overall, this was a very fun, quick read and I really enjoyed it!
4/5 stars