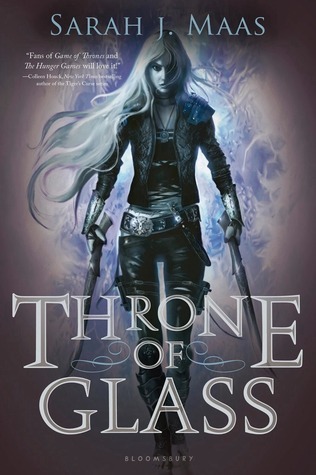 Throne of Glass by Sarah J. Maas
Published May 7th 2013 by Bloomsbury USA Childrens (first published August 2nd 2012)
404 Pages
Goodreads Summary: In a land without magic, where the king rules with an iron hand, an assassin is summoned to the castle. She comes not to kill the king, but to win her freedom. If she defeats twenty-three killers, thieves, and warriors in a competition, she is released from prison to serve as the king's champion. Her name is Celaena Sardothien.
The Crown Prince will provoke her. The Captain of the Guard will protect her. But something evil dwells in the castle of glass–and it's there to kill. When her competitors start dying one by one, Celaena's fight for freedom becomes a fight for survival, and a desperate quest to root out the evil before it destroys her world.
Review: I read this book for Bloggers' Book Club.  Ever since I first started my book blog I had heard a lot of great things about the Throne of Glass series.  I love a good fantasy novel so I added it to my TBR.  That list is so long that I knew I probably wouldn't get to it for awhile.  Luckily for me it was chosen for this month's read for book club!
It took me awhile to get into this book, maybe 100 pages or so.  But once I got into it, I was hooked.  I loved the main character, Celaena, a total bad-ass assassin they call Queen of the Underworld.  Not only is she the best assassin but she also loves to read, play the piano, and fancy dresses.  She had a rough life before she became an assassin, then someone betrayed her and she wound up in one of the worst places on earth.  Even after all of that, she still manages to have a light side to her, not lost to total darkness.  The two main men in her life, Chaol and Dorian, are great each in their own way.  The world that Maas created, along with the characters, was incredible.  There were so many interesting things going on!  The Champion contest, the Eyllwe princess, the Wyrdmarks and murders, the King's mysterious journey.  I really can't wait to read what comes next for these characters in the sequel, Crown of Midnight!
4/5 stars