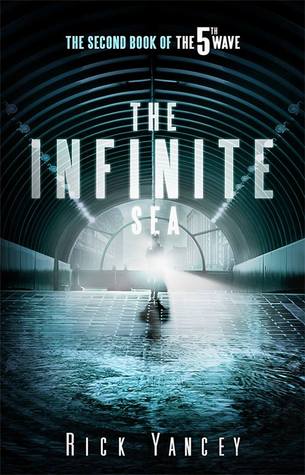 The Infinite Sea by Rick Yancey
Published September 16th 2014 by G.P. Putnam's Sons Books for Young Readers
300 Pages
Goodreads Summary: How do you rid the Earth of seven billion humans? Rid the humans of their humanity.
Surviving the first four waves was nearly impossible. Now Cassie Sullivan finds herself in a new world, a world in which the fundamental trust that binds us together is gone. As the 5th Wave rolls across the landscape, Cassie, Ben, and Ringer are forced to confront the Others' ultimate goal: the extermination of the human race.
Cassie and her friends haven't seen the depths to which the Others will sink, nor have the Others seen the heights to which humanity will rise, in the ultimate battle between life and death, hope and despair, love and hate.
Review: I read this book for the #ReadingMyLibrary Challenge.  Last week I read the first book in the series, The 5th Wave, and totally loved it.  After reading this book my feelings have not changed.  This series is awesome!  I had been very eager to read more about Cassie, Evan, and Ben.  I'm not a huge fan of Ringer so I was struggling a little bit to get through the huge section at the end that is her POV.  It did get very interesting towards the end but it felt like it took too long to get there.  I wasn't all that impressed with Poundcake's POV either.  It didn't really seem necessary to the story.  I would have liked to see more from Cassie and Evan.  Prepare yourself for a plot twist that had me reeling for awhile.  I finished this book yesterday around 5:00 pm and I'm still thinking about it this morning!  I can't wait for the 3rd book to be released so I can see how this all wraps up!  Anyone looking for a good dystopian/post-apocalyptic series will love these books!
4/5 stars