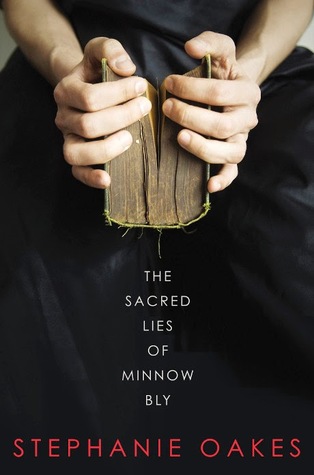 I received this ARC through Penguin's First To Read program in exchange for an honest review.
The Sacred Lies of Minnow Bly by Stephanie Oakes
Expected publication: June 9th 2015 by Dial/Penguin
400 Pages
Goodreads Summary: The Kevinian cult has taken everything from seventeen-year-old Minnow: twelve years of her life, her family, her ability to trust.
And when she rebelled, they took away her hands, too.
Now their Prophet has been murdered and their camp set aflame, and it's clear that Minnow knows something—but she's not talking. As she languishes in juvenile detention, she struggles to un-learn everything she has been taught to believe, adjusting to a life behind bars and recounting the events that led up to her incarceration. But when an FBI detective approaches her about making a deal, Minnow sees she can have the freedom she always dreamed of—if she's willing to part with the terrible secrets of her past.
The Sacred Lies of Minnow By is a hard-hitting and hopeful story about the dangers of blind faith—and the power of having faith in oneself.
Review: This book was probably my #1 most anticipated 2015 release and I was so beyond happy to be able to read an advanced copy thanks to Penguin's First To Read Program.  The first thing that grabbed me was the cover and the title and when I read the description I knew I would end up really liking this book.  I've always been interested in things like cults and extreme religious groups so I knew this would fit right in line with my interests.  When Minnow was five, her parents decided to leave the modern world behind and follow the Prophet into the woods to create the Community.  When you are five years old, your mind is very impressionable so it was incredible to see Minnow questioning the world around her when everybody else took the Prophet at his word, even when he contradicted himself.  She is such a strong character and it was exciting to watch her grow and learn all of the things she had wondered about her entire life.  At one point it is mentioned that by being in jail she has traded one prison (the community) for another.  But she knows that this prison is freeing her and helping her move on from her horrid past.  The other characters in the story all have an important impact on Minnow's life, especially Jude, Angel and Dr. Wilson.  All three were instrumental in bringing about changes for the better in Minnow.  I think one of my favorite things about this book was the way it was written.  In the present, Minnow is in juvie and recollecting everything that happened to her through flashbacks that are brought on by things happening to her in the moment.
I can't wait for it to be released so I can own a copy and reread it.  This book is Stephanie Oakes debut novel and I can't wait to see what else she comes up with in the future.
5/5 Stars