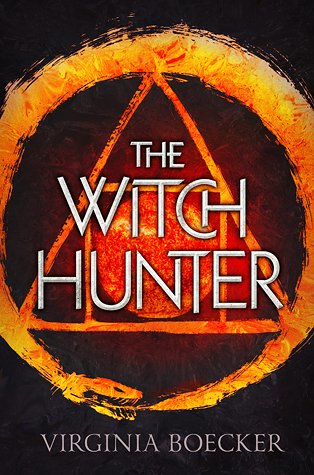 I received this eARC through NetGalley in exchange for an honest review.
The Witch Hunter by Virginia Boecker
Expected publication: June 2nd 2015 by Little, Brown Books for Young Readers
368 Pages
Goodreads Summary: Your greatest enemy isn't what you fight, but what you fear.
Elizabeth Grey is one of the king's best witch hunters, devoted to rooting out witchcraft and doling out justice. But when she's accused of being a witch herself, Elizabeth is arrested and sentenced to burn at the stake.
Salvation comes from a man she thought was her enemy. Nicholas Perevil, the most powerful and dangerous wizard in the kingdom, offers her a deal: he will save her from execution if she can break the deadly curse that's been laid upon him.
But Nicholas and his followers know nothing of Elizabeth's witch hunting past–if they find out, the stake will be the least of her worries. And as she's thrust into the magical world of witches, ghosts, pirates, and one all-too-handsome healer, Elizabeth is forced to redefine her ideas of right and wrong, of friends and enemies, and of love and hate.
Review: This was one of the books I was really looking forward to reading this year.  I'm a big fan of witchcraft and magic so this book seemed perfect for me.  I am glad I got this for free because it was a bit of a let down.
I saw a user on Goodreads ask the author when this book was supposed to take place and she responded that it was an alternate 16th century England during her version of the reformation.  My issue here was that you would not have guessed that based on the way the characters talk.  In hindsight, I should have written down a few of the lines in particular to show what I mean.  Both Fifer and Elizabeth speak and act the way modern teenagers speak and act.  Fifer especially when she is acting like the jealous girlfriend over Schuyler during the nymph party.
The other thing that I didn't like was that there was no explanation why magic was outlawed.  In historical 16th century England, witchcraft is deemed evil because of religion.  But there is no mention of any sort of religion in this book that could be behind the ban.  The book could have been a lot stronger with a little background on this.
The third thing I disliked was Elizabeth's interactions and feelings about the male characters, specifically the King, Caleb and John.  Her relationship with the King was just weird to me.  He basically forced her to have relations with him and yet she would defend him in conversations with others.  Then she believes that she is in love with Caleb so she gets jealous when she hears he has been spending time with other girls.  And not long after this she starts to have feelings for John… give me a break.  Not buying it at all.
On the plus side, it was a really interesting storyline with some decent action sequences.  I just don't think it was executed very well.  It felt like jumping into a book or movie part way through and you don't know what happened in the beginning so you're a little lost.
I think this is the first book to make me feel the need to use half stars in my reviews.  I'm still not going to so I'll just round up.  I'm going to go with 3 stars because it did manage to hold my interest for the entire length of the book despite it's flaws.  It was good, but could have been a lot better.
3/5 stars