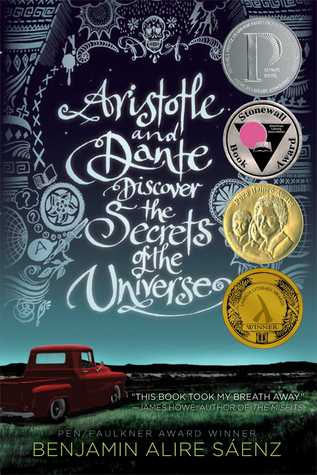 Aristotle and Dante Discover the Secrets of the Universe by Benjamin Alire Saenz
Published April 1st 2014 by Simon & Schuster Books for Young Readers (first published 2012)
Pages: 359
Goodreads Summary: Dante can swim. Ari can't. Dante is articulate and self-assured. Ari has a hard time with words and suffers from self-doubt. Dante gets lost in poetry and art. Ari gets lost in thoughts of his older brother who is in prison. Dante is fair skinned. Ari's features are much darker. It seems that a boy like Dante, with his open and unique perspective on life, would be the last person to break down the walls that Ari has built around himself.
But against all odds, when Ari and Dante meet, they develop a special bond that will teach them the most important truths of their lives, and help define the people they want to be. But there are big hurdles in their way, and only by believing in each other―and the power of their friendship―can Ari and Dante emerge stronger on the other side.
Review: This was the May book for Bloggers' Book Club.  I wasn't quite sure if I was going to like it so I even debated reading it.  I am really glad that I did!  I thought this book was incredible.  The characters were easily related for me, especially Aristotle and Dante.  Everything felt so real and it was very easy to experience the character's emotions.  There isn't really a plot line, it's mostly just character evolution.  Ari is really unsure of himself in the beginning and after he meets Dante he slowly starts to make realizations about who he is.  Ari is a very to the point kind of guy so the dialogue is a little repetitive but it fits his character.  I loved everything about this book and will definitely be recommending it to everyone I know.
4/5 Stars