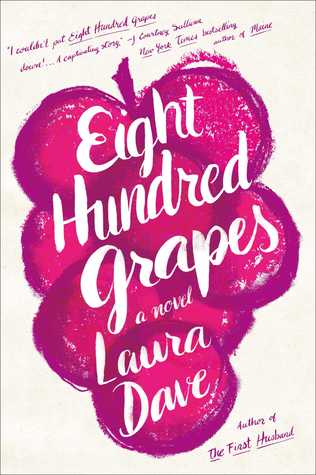 I received this ARC from Simon & Schuster in exchange for an honest review.
Eight Hundred Grapes by Laura Dave
Expected publication: June 2nd 2015 by Simon & Schuster
272 Pages
Goodreads Summary: There are secrets you share, and secrets you hide…
Growing up on her family's Sonoma vineyard, Georgia Ford learned some important secrets. The secret number of grapes it takes to make a bottle of wine: eight hundred. The secret ingredient in her mother's lasagna: chocolate. The secret behind ending a fight: hold hands.
But just a week before her wedding, thirty-year-old Georgia discovers her beloved fiancé has been keeping a secret so explosive, it will change their lives forever.
Georgia does what she's always done: she returns to the family vineyard, expecting the comfort of her long-married parents, and her brothers, and everything familiar. But it turns out her fiancé is not the only one who's been keeping secrets…
Review: I was immediately drawn to this book when I read the summary.  From the moment I started reading it I was hooked.  The opening chapter gives a great introduction to the chapters and really sparked my interest.  I just had to keep reading to find out what was going on with Georgia.  Each of the characters had very distinct personalities.  All of the scenarios faced by the characters feel very real.  Even though Georgia is the main character, I felt like all of her family members were main characters.  They were each going through their own problems and trying to get through it.  There are elements of romance but it was much more than just your typical romance.  The family struggles were my favorite parts of the book.  I kept hoping and hoping that everything would work out for each and every one of them.  The author does a fantastic job of getting the reader to become emotionally involved in her characters.  This was a great story from beginning to end.  I will be recommending this book to my friends and family.
4/5 Stars