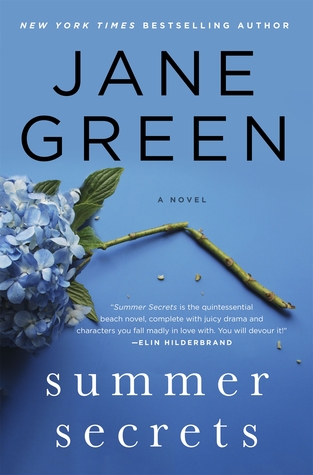 I received this ARC from the publisher in exchange for an honest review.
Summer Secrets by Jane Green
Expected publication: June 23rd 2015 by St. Martin's Press
 320 Pages
Goodreads Summary:
June, 1998: At twenty seven, Catherine Coombs, also known as Cat, is struggling. She lives in London, works as a journalist, and parties hard. Her lunchtimes consist of several glasses of wine at the bar downstairs in the office, her evenings much the same, swigging the free booze and eating the free food at a different launch or party every night. When she discovers the identity of the father she never knew she had, it sends her into a spiral. She makes mistakes that cost her the budding friendship of the only women who have ever welcomed her. And nothing is ever the same after that.
June, 2014: Cat has finally come to the end of herself. She no longer drinks. She wants to make amends to those she has hurt. Her quest takes her to Nantucket, to the gorgeous summer community where the women she once called family still live. Despite her sins, will they welcome her again? What Cat doesn't realize is that these women, her real father's daughters, have secrets of their own. As the past collides with the present, Cat must confront the darkest things in her own life and uncover the depths of someone's need for revenge.
Review: This was my first Jane Green novel and now that I have read one, I think I can say for sure that I will be adding her other books to my TBR list.  Cat, the main character, is an alcoholic struggling with the way her life has turned out.  In the beginning she is fairly recently divorced and trying to come to terms with her new life and remembering how she got to this point.  Then the author takes us back in time and begins revealing the events that led Cat to where she is now.  Although Cat could be a little annoying, it was hard not to feel for her and want her to be able to resolve everything that went wrong in her life.  Growing up in a home where the man she thinks is her father treats her as though she is second rate can definitely work to tear a girl down.  All of the drama that comes with being an alcoholic really moves this story forward, especially when she finds out she has a long lost family she never knew about.  With a shocking twist near the end, the author easily held my attention throughout the entire novel.  I really enjoyed reading this book.
4/5 Stars