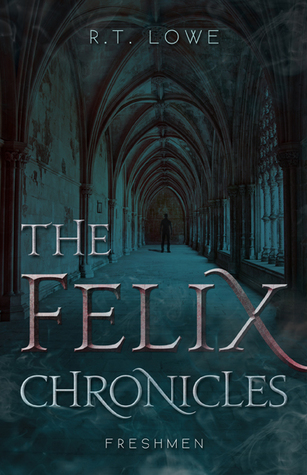 I received a free copy of this novel from the author in exchange for an honest review.
The Felix Chronicles: Freshmen by R.T. Lowe
Published May 11th 2015
500 Pages
Goodreads Summary: Reeling from a terrible accident that claimed the lives of his parents, Felix arrives at Portland College hoping only to survive the experience. In time, however, his reality star roommate shows him there is more to higher education than just classes, shared bathrooms and bad dorm food, and Felix gradually dares to believe he can put his past behind him. But a fateful storm looms on the horizon: In the nearby woods, two hikers become the latest victims in a series of gruesome murders; a disfigured giant embarks on a vicious cross-country rampage, killing teenagers who fail his 'test'; and an ancient society of assassins tasked with eradicating the wielders of a mysterious source of power awakens after a long silence. Only one man–the school's groundskeeper–knows that the seemingly unrelated events are connected, and that an eighteen-year-old boy stands in the center of the storm.
Review: As soon as I read the summary of this book, I was hooked.  It sounded like something that was totally up my alley.  When I started the book though, I was a bit confused about why it was opening in 336 AD.  It definitely wasn't something I expected but as the story continued it made perfect sense as to why it began far in the past.  There are also chapters that seem to be completely unconnected to Felix but again, as the story begins to stitch itself together everything makes sense and you are able to make all of the connections.  There are so many things about this novel to enjoy: action, adventure, magic, ancient secret societies, and a smidgeon of romance.  Add in serial killers and flesh-eating monsters and you've got yourself quite a story!  Even though this could be classified as the typical good vs. evil plot, it feels fresh and original.  Lowe did a fantastic job of creating unique characters and weaving them into this incredibly intense and intricate plot!  One of my favorite characters was Allison.  She was such a bad-ass, both physically and mentally.  It is very easy to see why she is Felix's best friend.  I also really enjoyed the setting!  Portland College sounds like a fascinating place.  Especially when I envision the abandoned old campus and no-man's land!
This story will keep you on the edge of your seat until the very end.  I would not recommend this book to people who are sensitive to violence though as the descriptions of the Faceman and flesh-eating monsters activities are rather graphic.  If that doesn't bother you though I urge you to check out this book!  I can't wait for the next book in the series!
4/5 stars