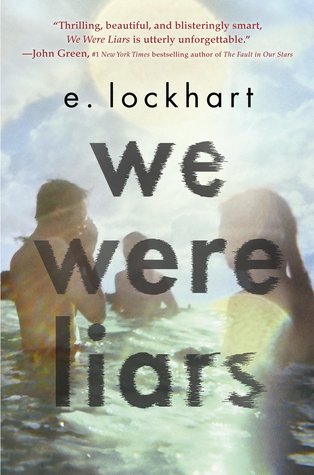 We Were Liars by E. Lockhart
Published May 13th 2014 by Hot Key Books (first published January 1st 2014)
227 Pages
Goodreads Summary: A beautiful and distinguished family.
A private island.
A brilliant, damaged girl; a passionate, political boy.
A group of four friends—the Liars—whose friendship turns destructive.
A revolution. An accident. A secret.
Lies upon lies.
True love.
The truth.
Review: I've been sitting here for 20 minutes trying to think of something to say about this book and I've got nothing.  I had been wanting to read this for awhile and bought a copy a few months back but finally got around to reading it on Monday.  I was home sick so I just sat down and ended up reading the entire thing.  Not really because it was so good but because it was short and I didn't have much else to do.  The way the book was written in the beginning was a little annoying – kind of scattered and all over the place.  I'm still not quite sure why the four of them were called the Liars.  As the book continued on it started to get a little interesting but then I reached a point where I knew what was going to happen.  That kind of made the rest of the book boring for me.  I had heard so many good things (and a few bad things) about this book so I wasn't too sure if I was going to like it.  Overall I would have to say it was just okay, nothing special and nothing I plan on reading again.  This book did not hold up to the hype surrounding it for me but I can see why people would like it.
2/5 stars