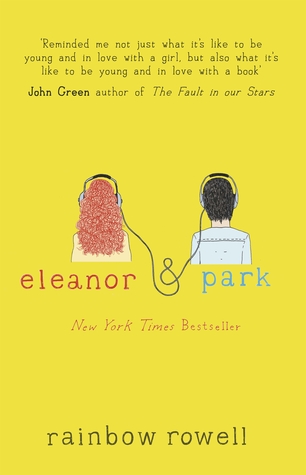 Eleanor & Park by Rainbow Rowell
Published April 12th 2012 by Orion (first published January 1st 2012)
336 Pages
Goodreads Summary: Two misfits.
One extraordinary love.
Eleanor… Red hair, wrong clothes. Standing behind him until he turns his head. Lying beside him until he wakes up. Making everyone else seem drabber and flatter and never good enough…Eleanor.
Park… He knows she'll love a song before he plays it for her. He laughs at her jokes before she ever gets to the punch line. There's a place on his chest, just below his throat, that makes her want to keep promises…Park.
Set over the course of one school year, this is the story of two star-crossed sixteen-year-olds—smart enough to know that first love almost never lasts, but brave and desperate enough to try.
Review: The first thing I want to say about this book was that I LOVED it!  When I first started my blog in September, one of the main authors I kept seeing on everyone else's blogs was Rainbow Rowell.  Everyone seemed to love all of her books.  I finally read my first one and I can now say that I get why!  I love that the book was divided between Park and Eleanor's POVs.  It was fun to be able to see both sides of the story.  This story was funny and sweet with flashes of darkness thanks to Eleanor's evil stepfather.  Everything about this felt real and I completely fell in love with Eleanor & Park, individually and as a couple.  I will definitely be reading this book again in the future and recommending it to my friends and family.  I can't wait to read another book by Rowell!
5/5 Stars