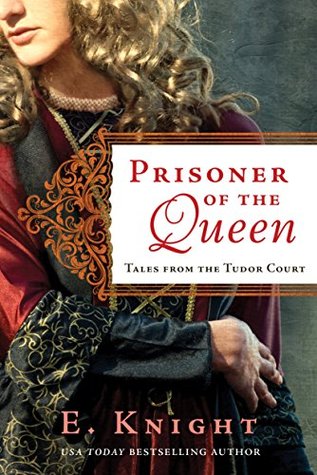 I received this ebook through NetGalley in exchange for an honest review.
Prisoner of the Queen by E. Knight
Expected publication: August 11th 2015 by Lake Union Publishing (first published July 19th 2014) – This is a revised edition with editorial changes.
335 Pages
Goodreads Summary: Kindhearted Katherine Grey knows well the peril of being born with royal blood. As Henry VIII's grandniece and one of the heirs to the English throne, her noble birth has doomed her to live among the schemers and seducers of the king's court—barring her from the peaceful life that she truly desires.
After her sister fails to keep the throne, and a new queen rises to power, Katherine finds herself surrounded by adversaries. Since Queen Elizabeth sees her as a threat, and court conspirators see her as an ally, Katherine is forced to play a game she knows she cannot win. And when she reunites with the man she truly loves, Katherine has even more at stake. With treachery at every turn and the life she dreams of within reach, Katherine must make an impossible choice: Will she submit to the queen's authority, or will she pursue love no matter the cost?
Review: I am a huge fan of novels about the Tudor court so when I found this book I knew I had to read it.  Most of the novels about the Tudor court are revolve around the usual suspects: Henry VIII, one of his six wives, or one of his children.  This novel is about Lady Katherine Grey, sister to Lady Jane Grey who served as queen for only 9 days between the reigns of Henry VIII's children, Edward and Mary.  The novel starts out when Katherine and Jane are young girls who have to quickly grow up as their parents maneuver their lives through the court game.  The majority of the novel takes place during Elizabeth's reign (who was queen after Mary).  Lady Katherine was one of several women who Elizabeth sought to punish for choosing to be with the man they loved without Elizabeth's permission.  Elizabeth herself was never able to be with the one she loved so she often took it out on those around her.  This novel made it very easy to connect with Lady Katherine and to feel her pain as she is imprisoned in the tower for marrying the man she loves.  One thing that I really enjoyed about this book was that the author wrote it using the language and phrases of the time period.  So often lately I've started reading historical fiction where the author did not write the dialogue any different than the way we speak today.  That ruins the whole effect of reading historical fiction for me so I was very happy that this author used the language and phrases to really immerse the reader into the 16th century.  Overall I thought this was a really enjoyable book and recommend it to historical fiction readers and fans of the Tudor court.
4/5 Stars