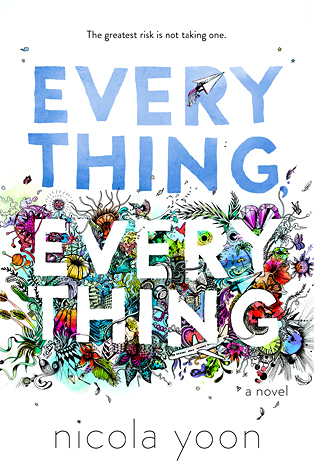 I received an eARC through NetGalley in exchange for an honest review.
Everything, Everything by Nicola Yoon
Expected publication: September 1st 2015 by Delacorte Books for Young Readers
320 Pages
Goodreads Summary: My disease is as rare as it is famous. Basically, I'm allergic to the world. I don't leave my house, have not left my house in seventeen years. The only people I ever see are my mom and my nurse, Carla.
But then one day, a moving truck arrives next door. I look out my window, and I see him. He's tall, lean and wearing all black—black T-shirt, black jeans, black sneakers, and a black knit cap that covers his hair completely. He catches me looking and stares at me. I stare right back. His name is Olly.
Maybe we can't predict the future, but we can predict some things. For example, I am certainly going to fall in love with Olly. It's almost certainly going to be a disaster.
Review: I wasn't quite sure what to expect from this book.  How exciting could a book be about a girl who can't leave her house because she is allergic to the world.  Boy was I wrong.  I LOVED this book so much!  Madeline was such a cute character and I felt that I could identify with her personality pretty well.  From the moment Olly moved in next door, I could tell that something pretty awesome was going to happen between the two of them.  There were so many feels, both good and bad, during this book.  I loved Carla and that she was willing to risk the wrath of Madeline's mother to let Maddy get to know Olly.  Towards the end there is a huge twist that just makes the book even better.  I definitely can't wait to own a copy of this book so I can have a physical copy.  I will be recommending this book to others as well.
5/5 Stars