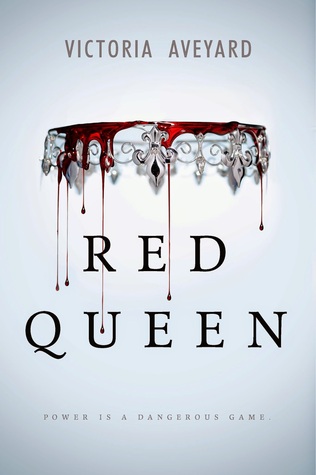 Red Queen by Victoria Aveyard
Published February 10th 2015 by HarperTeen
383 Pages
Goodreads Summary: The poverty stricken Reds are commoners, living under the rule of the Silvers, elite warriors with god-like powers.
To Mare Barrow, a 17-year-old Red girl from The Stilts, it looks like nothing will ever change.
Mare finds herself working in the Silver Palace, at the centre of
those she hates the most. She quickly discovers that, despite her red blood, she possesses a deadly power of her own. One that threatens to destroy Silver control.
But power is a dangerous game. And in this world divided by blood, who will win?
Review: I have to admit I was nervous to start this book because all of the hype surrounding it.  I did have a little bit of a hard time getting into the book but overall, I really liked it.  Mare seemed like a strong character who would do anything for her family and friends.  Fairly quickly in the storyline you get a big twist.  There is a lot of action and excitement.  The only thing I wasn't too keen on was the way Mare kept going back and forth between Cal and Maven.  With another twist towards the end, this book keeps the reader on their toes throughout.  I am very much looking forward to reading the sequel!
4/5 Stars