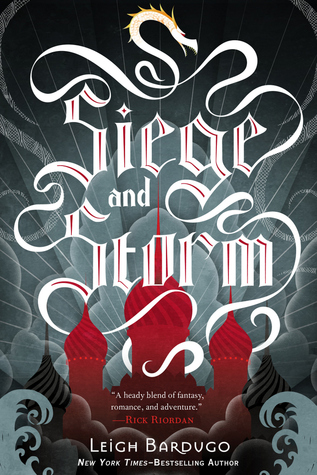 Siege and Storm by Leigh Bardugo
Published June 4th 2013 by Henry Holt and Co.
435 Pages
Goodreads Summary: Hunted across the True Sea, haunted by the lives she took on the Fold, Alina must try to make a life with Mal in an unfamiliar land. She finds starting new is not easy while keeping her identity as the Sun Summoner a secret. She can't outrun her past or her destiny for long.
The Darkling has emerged from the Shadow Fold with a terrifying new power and a dangerous plan that will test the very boundaries of the natural world. With the help of a notorious privateer, Alina returns to the country she abandoned, determined to fight the forces gathering against Ravka. But as her power grows, Alina slips deeper into the Darkling's game of forbidden magic, and farther away from Mal. Somehow, she will have to choose between her country, her power, and the love she always thought would guide her–or risk losing everything to the oncoming storm.
Review: After reading Shadow and Bone and really liking it, I was super excited to dive into book #2.  Luckily I already had it waiting for me at home so I was able to start it immediately after getting home from work the same day I finished Shadow and Bone.  I'm glad that I rated Shadow and Bone at 4 stars because I HAD to rate Siege and Storm higher.  I really loved this book and was surprised because usually in a series or trilogy the sequels aren't as good as the first.  But I loved this one even more than book #1.  I loved that the action picked up right from the beginning of the book.  I couldn't wait to see what was going to happen between Alina, the Darkling and Mal.  And a new character was introduced and I completely fell in love with him.  Captain Sturmhond was hilarious, dashing and charming all at once.  Enter in a twist with a big reveal and this storyline had my completely hooked.  There was so much more action in this book now that the world building had been completed in the first book.  I loved every moment of this book.  I really can't wait to read the 3rd book!
5/5 Stars