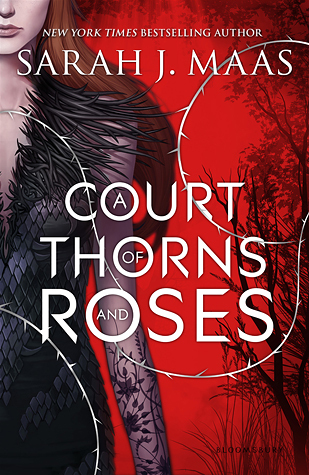 A Court of Thorns and Roses by Sarah J. Maas
Published May 5th 2015 by Bloomsbury Children's (first published January 1st 2015)
416 Pages
Goodreads Summary: Feyre's survival rests upon her ability to hunt and kill – the forest where she lives is a cold, bleak place in the long winter months. So when she spots a deer in the forest being pursued by a wolf, she cannot resist fighting it for the flesh. But to do so, she must kill the predator and killing something so precious comes at a price.
Dragged to a magical kingdom for the murder of a faerie, Feyre discovers that her captor, his face obscured by a jewelled mask, is hiding far more than his piercing green eyes would suggest. Feyre's presence at the court is closely guarded, and as she begins to learn why, her feelings for him turn from hostility to passion and the faerie lands become an even more dangerous place. Feyre must fight to break an ancient curse, or she will lose him forever.
Review: This was another book I was nervous to start because of the hype surrounding it.  I have heard so many great things that I was worried I would have too high of expectations going in.  At first I wasn't really liking Feyre and I didn't really like her until about halfway through the book.  She made some pretty stupid decisions that had me wanting to reach through the pages and shake her.  On the other hand, I LOVED Tamlin and Lucien.  I really loved the elements of Beauty and the Beast.  I really loved the world building and felt that it wasn't too overwhelming to the story.  I loved how the end of the book didn't leave off with a huge cliffhanger.  I like that there is going to be a sequel but I think it could have also worked as a stand alone.  I am really looking forward to reading the sequel.
4/5 Stars