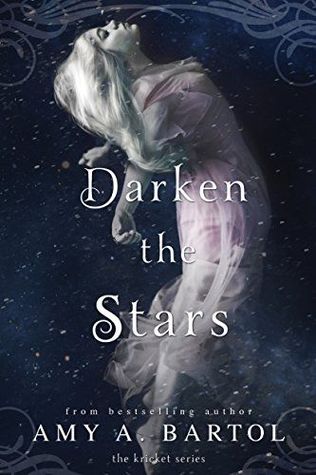 I received a copy of this through NetGalley in exchange for an honest review.
Darken the Stars by Amy A. Bartol
302 Pages
Expected publication: September 8th 2015 by 47North
Goodreads Summary: Kyon Ensin finally has what he's always wanted: possession of Kricket Hollowell, the priestess who foresees the future. Together, their combined power will be unrivaled. Kricket, however, doesn't crave the crown of Ethar—she has an unbreakable desire to live life on her own terms, a life that she desperately wants to share with her love, Trey Allairis.
As conspiracies rage in the war for Ethar, Kricket's so-called allies want to use her as a spy. Even those held closest cannot be trusted—including Astrid, her sister, and Giffen, a member of a mysterious order with a hidden agenda. But Kricket's resolve will not allow her to be used as anyone's pawn, even as the Brotherhood sharpens its plans to cut out her heart.
As the destiny prophesied by her mother approaches, Kricket will backtrack through her fiery future to reshape it. For she knows one thing above all else: the only person she can truly count on is herself.
Review: I'm a huge fan of Amy A. Bartol so being approved for this book made me super happy. I really liked Kricket and Trey together so I was very nervous that Kyon had her captive again. But as things started to blossom between Kricket and Kyon, I found my alliances shifting. This book completely opened up Kyon's character and he became endearing, even considering all of the things he had done in the past. I found myself hoping Kricket and Kyon would be together forever. I loved the action and where this story was going. Literally the only issue I had with this book was the ending! I'm farily certain that this is the final book of the series but it just felt incomplete!  It felt way too open ended and there didn't seem to be any sort of closure to the story.  But despite the ending that I am still reeling from, I did really like this book.
4/5 Stars