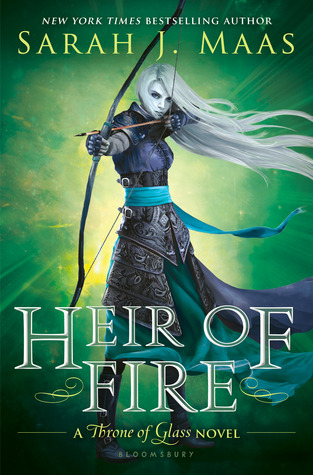 Heir of Fire by Sarah J. Maas (Throne of Glass #3)
Published September 1st 2015 by Bloomsbury USA Childrens (first published September 2nd 2014)
592 Pages
Goodreads Summary: Celaena Sardothien has survived deadly contests and shattering heartbreak—but at an unspeakable cost. Now she must travel to a new land to confront her darkest truth…a truth about her heritage that could change her life—and her future—forever.
Meanwhile, brutal and monstrous forces are gathering on the horizon, intent on enslaving her world. To defeat them, Celaena must find the strength to not only fight her inner demons but to battle the evil that is about to be unleashed.
The king's assassin takes on an even greater destiny and burns brighter than ever before in this follow-up to the New York Times bestselling Crown of Midnight.
Review: The Throne of Glass series has become a favorite of mine.  Each book has gotten continually better and better.  Heir of Fire was so action packed!  I loved seeing Celaena learn more of her powers with Rowan's help.  And Rowan… I loved his character.  He was so gruff and tough, yet he also had a soft and vulnerable side.  And a new character was introduced who has become one of my favorites – Manon Blackbeak, one of the Ironteeth witches.  She was so fierce but you could see a softness lurking beneath the surface.  She was evolving from the 100% cruel and harsh witches before her.  I was pretty disappointed with Chaol's change of character.  He became so negative and hateful towards Celaena.  He didn't even seem like the same person.  Overall, I loved this book completely.  There was so much to this book and you need to read it now if you haven't read it already.
5/5 Stars