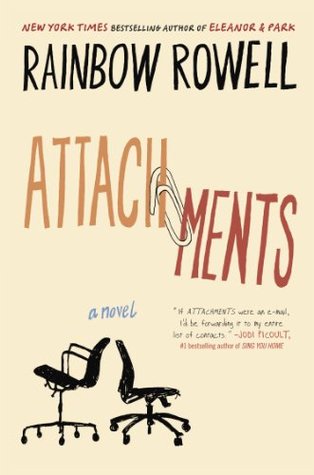 Attachments by Rainbow Rowell
Published March 27th 2012 by Plume (first published April 14th 2011)
323 Pages
Goodreads Summary: "Hi, I'm the guy who reads your e-mail, and also, I love you . . . " From the award-winning author of Eleanor & Park, Fangirl, andLandline comes a hilarious and heartfelt novel about love in the workplace.
Beth Fremont and Jennifer Scribner-Snyder know that somebody is monitoring their work e-mail. (Everybody in the newsroom knows. It's company policy.) But they can't quite bring themselves to take it seriously. They go on sending each other endless and endlessly hilarious e-mails, discussing every aspect of their personal lives.
Meanwhile, Lincoln O'Neill can't believe this is his job now- reading other people's e-mail. When he applied to be "internet security officer," he pictured himself building firewalls and crushing hackers- not writing up a report every time a sports reporter forwards a dirty joke.
When Lincoln comes across Beth's and Jennifer's messages, he knows he should turn them in. But he can't help being entertained-and captivated-by their stories.
By the time Lincoln realizes he's falling for Beth, it's way too late to introduce himself.
What would he say . . . ?
Review: This is the 3rd Rainbow Rowell book I have read now.  I knew I loved her after reading my first, Eleanor & Park.  Fangirl was good but didn't blow me away.  So I was prepared to like Attachments, but I wasn't prepared to absolutely 100% love it.  And I did!  Attachments pushed E&P out of my #1 Rainbow Rowell spot.  There were so many things I loved about this book.  The characters felt so real.  Lincoln is a 28 year old living with his mother, finally getting a job after spending the last 10 months getting multiple college degrees.  He hates his new job and feels like a creeper but can't stop reading the emails between Beth and Jennifer.  Even though he has never met them and doesn't know what they look like, he finds himself falling for Beth.  Meanwhile, Beth is stuck in a seemingly dead end relationship that everyone but she can see.  She has seen Lincoln around the office without knowing who he is and nicknames him her cute guy.  Ahh I could go on and on and on about this book.  It is so cute!  But there are also some deeper moments for all three characters that really add depth to the book.  I devoured this book.  If it weren't for work and needing sleep I would have finished it the same day I started reading it.  I really enjoyed breaking away from reading about teenagers for a bit and moving forward a decade.  One of my favorite things about this book was all of the fantastic '90s references!  It was set in 1999 and their newspaper was prepping for Y2K.  Beth is a movie reviewer so we would get to see all of the titles of the movies she reviewed for the paper.  And just other references of pop culture thrown into everyday conversation between the characters.  I will definitely be recommending this book to anyone I know and I look forward to reading it again in the future.