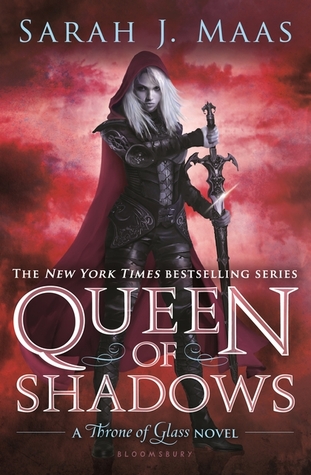 Queen of Shadows by Sarah J. Maas
Published September 1st 2015 by Bloomsbury USA Childrens
648 Pages
Goodreads Summary: The queen has returned.
Everyone Celaena Sardothien loves has been taken from her. But she's at last returned to the empire—for vengeance, to rescue her once-glorious kingdom, and to confront the shadows of her past…
She has embraced her identity as Aelin Galathynius, Queen of Terrasen. But before she can reclaim her throne, she must fight.
She will fight for her cousin, a warrior prepared to die for her. She will fight for her friend, a young man trapped in an unspeakable prison. And she will fight for her people, enslaved to a brutal king and awaiting their lost queen's triumphant return.
The fourth volume in the New York Times bestselling series continues Celaena's epic journey and builds to a passionate, agonizing crescendo that might just shatter her world.
Review: I finished this book exactly 2 months ago yesterday and I am still struggling to write this review.  I loved so many things about this book.  There was continued character development and it was interesting to see some new faces joining the mix.  One of my favorite things was the continuation of Manon's character evolution.  She was raised to be ruthless but is developing more human emotions.  Since her introduction in Heir of Fire she has become one of my favorite characters in this series.  And Abraxos too.  I love their interactions together and wish I had my own wyvern just like him!  The scenes with Aelin and Manon together… WHOA!  And Rowan… I think I am officially converted from Team Chaol to Team Rowan.  Chaol seems like a completely different person since he found out who Celaena really is.  Rowan is the perfect match for Aelin.  I liked that the romance in the novel wasn't pushed to the forefront.  It was more of a side thing that wasn't focused on too much.  There was so much action.  It was a 100% thrilling adventure and I can't wait to see where book 5 takes us.
5 Stars