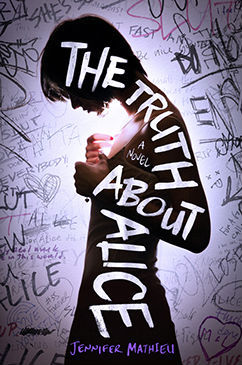 The Truth About Alice by Jennifer Mathieu
Published June 3rd 2014 by Roaring Brook Press
199 Pages
Goodreads Summary: Everyone knows Alice slept with two guys at one party.
But did you know Alice was sexting Brandon when he crashed his car?
It's true. Ask ANYBODY.
Rumor has it that Alice Franklin is a slut. It's written all over the bathroom stall at Healy High for everyone to see. And after star quarterback Brandon Fitzsimmons dies in a car accident, the rumors start to spiral out of control.
In this remarkable debut novel, four Healy High students—the girl who has the infamous party, the car accident survivor, the former best friend, and the boy next door—tell all they know.
But exactly what is the truth about Alice? In the end there's only one person to ask: Alice herself.
Review: The truth about this book, at least in my opinion, is that it was annoying and cliche.  In a lot of contemporary books and movies about teenagers in high school you see things nearly identical to this happen and every time it annoys me.  Popular guy creates a slutty rumor about a girl.  The rumor spreads like wildfire throughout the school.  Said guy drives drunk, crashes his car and dies.  Then everyone blames his death on the girl because of his continuous lies.  All of her friends abandon her except for the nerd who has been secretly in love with her all along.  I feel like I had read this story before and this kind of high school drama is not something I care to read about.  The only reason I finished this book was because it was so short.  Otherwise it was very predictable.  That being said, the author did a great job of creating all of the little details and making everything connect to create a cohesive story.  This book just wasn't for me.
2 Stars