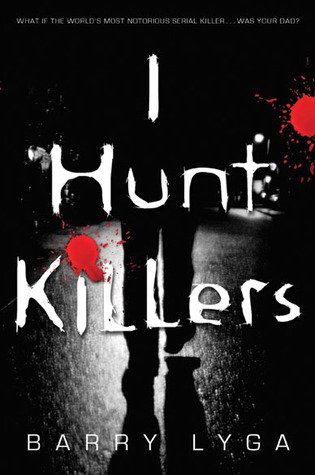 I Hunt Killers by Barry Lyga
Published April 3rd 2012 by Little, Brown and Company
359 Pages
Goodreads Summary: What if the world's worst serial killer…was your dad?
Jasper "Jazz" Dent is a likable teenager. A charmer, one might say.
But he's also the son of the world's most infamous serial killer, and for Dear Old Dad, Take Your Son to Work Day was year-round. Jazz has witnessed crime scenes the way cops wish they could—from the criminal's point of view.
And now bodies are piling up in Lobo's Nod.
In an effort to clear his name, Jazz joins the police in a hunt for a new serial killer. But Jazz has a secret—could he be more like his father than anyone knows?
Review: For months I had seen people rave about the Jasper Dent series.  I finally got all 3 books from Book Outlet and decided to give it a try.  I plowed through I Hunt Killers in a couple of days because it was so good!  First off, the characters.  Jasper AKA Jazz is the son of the most notorious serial killer in the US.  He is constantly worried that he will turn into his father, who taught him everything he needs to know about pulling off a successful murder without getting caught.  To combat this, he decides to help the local cops with a murder investigation that Jazz thinks are the workings of a serial killer.  Howie, Jazz's best friend, is his partner in "crime" who is a fun loving, goofy, hemophiliac.  I absolutely adored their friendship.  They would do anything for each other, no questions asked.  Billy Dent, Jazz's serial killer father, is a total creep!  It's amazing how insane he is.  I don't want to give anything away.  The suspense is heart pounding and the short chapters from the killers POV had me looking over my shoulder to make sure that I was truly alone.  I spent the entire book trying to guess who the killer was!  The book has a crazy ending and I can't wait to read the next book in the series, Game.  I suggest you read this book if you haven't already!
5 Stars
Plus look how cool all of the covers are with or without the jackets!