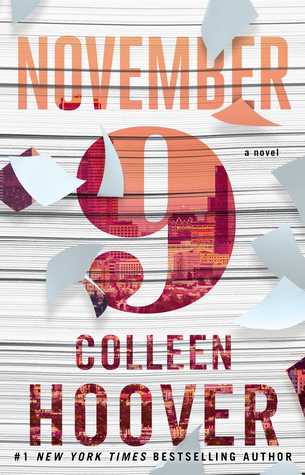 November 9 by Colleen Hoover
Published November 10th 2015 by Atria Books
320 Pages
Goodreads Summary: Fallon meets Ben, an aspiring novelist, the day before her scheduled cross-country move. Their untimely attraction leads them to spend Fallon's last day in L.A. together, and her eventful life becomes the creative inspiration Ben has always sought for his novel. Over time and amidst the various relationships and tribulations of their own separate lives, they continue to meet on the same date every year. Until one day Fallon becomes unsure if Ben has been telling her the truth or fabricating a perfect reality for the sake of the ultimate plot twist.
Review: I had heard so many amazing things about this book, even from people who don't normally go for romance novels.  The only thing I had read of Colleen Hoover before this was her novella, Finding Cinderella and that was a few years ago before I realized she was a popular author.  I was a little nervous to read it because of all the hype surrounding it.  At first Fallon's character was a bit annoying to me because she was so negative.  And yes, she had a terrible thing happen to her but two years later it's time to move on from that.  But as the book went on, I began to love her.  And from the moment Ben entered her life pretending to be her boyfriend, I loved him too.
I also loved all of the pop culture references, especially those related to TBR piles.
"You're a reader?" he asks.

I look over my should and he's fingering the books on my shelves.  "I love to read.  You should hurry up and write a book, because it's already on my TBR pile."

"Your TBR pile?"

"To be read pile," I clarify.
The funny moments between them had me laughing out loud.  The romantic moments had me grinning like a fool and the tragic moments had me struggling not to cry.  I failed, btw!  I don't think there was a single thing I didn't like about this book.  The story and characters took me on the biggest emotional roller coaster ride of my life.  The plot twist will blow your mind!
I would recommend this book to anyone because it is more than just a romance.
5 stars