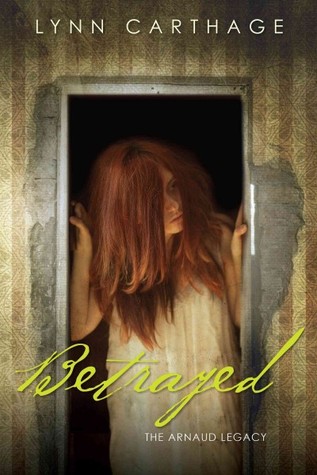 Betrayed by Lynn Carthage
Expected publication: February 23rd 2016 by Kensington
288 Pages
Goodreads Summary: When Phoebe Irving moved from San Francisco to my English country village, we discovered how much we have in common. We also realized that her family's home, the Arnaud Manor, has a twisted history that goes back centuries. Though the bloodthirsty Madame Arnaud is finally gone, a trip to the palace of Versailles in France proves that trouble still haunts us. With our friend Eleanor's help, we're trying to figure out the Arnaud legacy and our role in it . . . and whether the future holds the chance for Phoebe and me to make a real connection.
Boy meets girl. Obstacles arise. Love conquers all. You know the routine. But sometimes those you trust the most wind up betraying you. . . .
Review: I received a copy of this through NetGalley in exchange for an honest review.
I read and enjoyed the first book of this series, Haunted, last year. And I was invited by NetGalley to read and review book 2. I was excited to read more about Phoebe, Miles and Eleanor and Phoebe's family. I was really intrigued by the idea of them going to Versailles because I had been there 7 years ago and really loved it there.  Phoebe's family home that was featured in the first book is built as a replica of Versailles (although much smaller) so her parents want to visit and get ideas as they are renovating the house.  As Phoebe's family traversed around Paris, it was really interesting to hear some of the ghosts being described by Miles. While the first book kept me hooked by the creepy factor, this one didn't have the same effect.  Something pretty major happened that I didn't expect but you'll have to read for yourself to find out what it was. Overall, it was a fun read though and I think if you read and enjoyed book 1, you would enjoy this one as well.