WWW Wednesdays is a weekly meme hosted by Sam @ Taking On A World Of Words.
Each week we answer the following three questions:
-What have you recently finished reading?
-What are you currently reading?
-What are you reading next?
Well it's been a pretty slow reading week for me as I've been getting ready for California and binge watching Pretty Little Liars to catch up to Bird so we can discuss the show as it happens in real time!  I'm totally late to the PLL party and I wish I had started this show earlier because it is so addicting.  I'm up to season 5 now and things are crazier than ever.  So reading has kind of taken a back seat this week.  I have not finished any books since last week, which for once I'm not that upset about.  Since I didn't finish any books my formatting for today will be a little different than the norm.
The books I am currently reading are so far really great!
I am working on an eARC of The Progeny by Tosca Lee.  It is a story about a descendant of Elizabeth Bathory, labeled by the Guiness World Records as the most prolific female serial killer.  I am completely fascinated by all things Bathory and although I haven't gotten to the point of the story where any connections are made I am enjoying this book.  So far the beginning reminds me a lot of one of my favorite movies of all time – Eternal Sunshine of the Spotless Mind.  The MC wakes up in a remote cabin in Maine after having gone through a procedure to erase her memory.  I'm really looking forward to having time to read this on the plane on Friday and while I wait for my connecting flight in Denver on my 3 hour layover!
---
I am also reading Blonde Eskimo by Kristen Hunt.  I am a little less than halfway through it but I find the story to be interesting and engaging.  Within the past 5 years or so my interest in all things Alaska have really grown so this book is perfect with different legends and lore about the native people of Alaska.  I will also have the great fortune of hanging out with Kristen this weekend when we are all out there to celebrate and support our friend's book, Shattered Blue!  So far, Blonde Eskimo is about a girl named Neiva who comes to spend her senior year of high school living with her grandmother on the island of Spirit off the coast of Alaska.  Even before she sets foot on the island, strange things start to happen.
---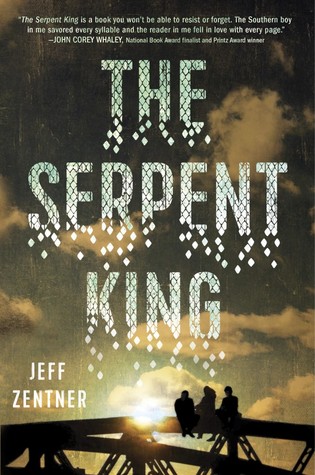 And the third book I am reading is an ARC of The Serpent King by Jeff Zentner.  I am participating in Stefani @ Caught Read Handed's ARC tour.  It's pretty awesome!  She set up this tour to pass along her personal copy and as each person reads it, they had their own page flags to the book and then pass it on to the next person.  It's cool seeing what parts speak to different people.  The first day I got it, I couldn't stop reading it!  It was so good.  I love the three main characters – Dill, Lydia, and Travis.  I can't wait to continue reading this book and pass it on to the next person.  I have already pre-ordered this book and can't wait to have a hardcover for my permanent collection.
---
So those are all of the books I am currently reading!  I anticipate still reading them over the next week so I am not going to put forth any Up Next titles.  I fly out on Friday morning and won't be back until late Monday night so you can also expect a little hiatus from me here as well.  On Monday you can finally read my review of Best of My Love by Susan Mallery, the final book in the best selling Fool's Gold series.
What have you been reading lately?