Shelf Control is a weekly feature hosted by Bookshelf Fantasies.  Consider this a variation of a Wishing & Waiting post… but looking at books already available.  Take a look at your shelves and/or Kindle and post about a book you own but haven't read yet.
---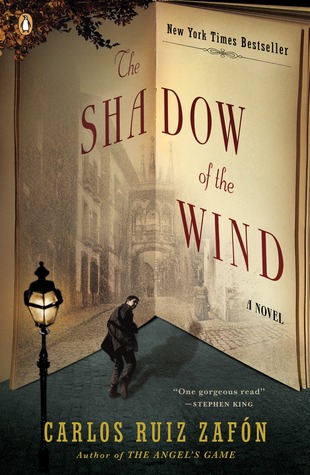 Title: The Shadow of the Wind
Author:  Carlos Ruiz Zafon
Published: Published January 25th 2005 by Penguin Books (first published 2001)
Length: 487 Pages
Goodreads Summary: Barcelona, 1945: A city slowly heals in the aftermath of the Spanish Civil War, and Daniel, an antiquarian book dealer's son who mourns the loss of his mother, finds solace in a mysterious book entitled The Shadow of the Wind, by one Julián Carax. But when he sets out to find the author's other works, he makes a shocking discovery: someone has been systematically destroying every copy of every book Carax has written. In fact, Daniel may have the last of Carax's books in existence. Soon Daniel's seemingly innocent quest opens a door into one of Barcelona's darkest secrets–an epic story of murder, madness, and doomed love.
How I Got It: I bought it at a used book store.
When I Got It: A couple of years ago.
Why I Want To Read It: It sounds like a really interesting book and I've read lots of great reviews for it.  It was also in the clearance section so it was an impulse buy.
Have any of you read this book?  What did you think of it?