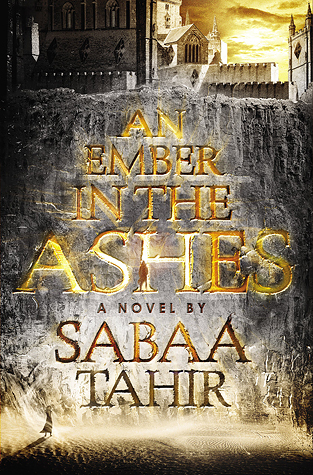 An Ember in the Ashes by Sabaa Tahir
Published April 28th 2015 by Razorbill
446 Pages
Goodreads Summary: Laia is a slave.
Elias is a soldier.
Neither is free.
Under the Martial Empire, defiance is met with death. Those who do not vow their blood and bodies to the Emperor risk the execution of their loved ones and the destruction of all they hold dear.
It is in this brutal world, inspired by ancient Rome, that Laia lives with her grandparents and older brother. The family ekes out an existence in the Empire's impoverished backstreets. They do not challenge the Empire. They've seen what happens to those who do.
But when Laia's brother is arrested for treason, Laia is forced to make a decision. In exchange for help from rebels who promise to rescue her brother, she will risk her life to spy for them from within the Empire's greatest military academy.
There, Laia meets Elias, the school's finest soldier—and secretly, its most unwilling. Elias wants only to be free of the tyranny he's being trained to enforce. He and Laia will soon realize that their destinies are intertwined—and that their choices will change the fate of the Empire itself.
Review: I bought this book shortly after its release date last year but for whatever reason put off reading it until now.  I suspect most of my hesitation was the fear of the hype monster.  The story alternates POVs between the two main characters, Laia and Elias.  I thought that this was a good way to go about this story since both characters are on somewhat separate sides of the system.
At first I didn't care much for Laia.  She seemed utterly naive and weak.  But as the story developed, so did her character.  You could see the courage and bravery behind her actions.  I was really intrigued by Elias.  He is the empire's finest soldier and yet is completely against what they stand for and wants to run away.  He has a rebellious spirit, which I love, especially considering the family he comes from.  I commend him for it.
Sabaa Tahir did a great job in the creation of the villain of the story, the Commandant.  She is an evil, cruel woman and the things she does in this book are absolutely despicable.
While there were lots of thrilling action scenes, there were also some dull moments.  The parts involving the mystical creatures were interesting but I felt like they weren't explained well enough to get a good idea of what they were.  Overall it was a good book and I am looking forward to reading the sequel.
4 Stars