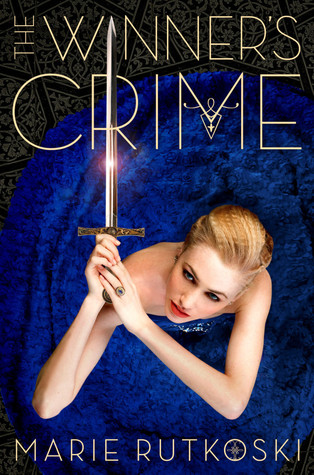 The Winner's Crime by Marie Rutkoski
Published March 3rd 2015 by Farrar, Straus and Giroux (BYR)
402 Pages
Goodreads Summary: Following your heart can be a crime
A royal wedding means one celebration after another: balls, fireworks, and revelry until dawn. But to Kestrel it means living in a cage of her own making. As the wedding approaches, she aches to tell Arin the truth about her engagement: that she agreed to marry the crown prince in exchange for Arin's freedom. But can Kestrel trust Arin? Can she even trust herself?
Kestrel is becoming very good at deception. she's working as a spy in the court. If caught, she'll be exposed as a traitor to her country. Yet she can't help searching for a way to change her ruthless world…and she is close to uncovering a shocking secret.
This dazzling follow-up to The Winner's Curse reveals the high price of dangerous lies and untrustworthy alliances. The truth will come out, and when it does, Kestrel and Arin will learn just how much their crimes will cost them.
Review: There were so many times in this sequel that I wanted to reach through the pages and grip Kestrel by the shoulders to shake some sense into her.  Maybe sense isn't the right word for it… I just wanted to her to come clean with Arin and fill him in!  There was so much angst between the two of them in this book.  I really enjoyed how Kestrel became Tensen's Moth. I did like seeing that the Emperor's son was also appalled at what his father was doing.  It was fun to see him and Kestrel forge a bond like siblings, even though they were engaged to be married.  Roshar definitely cracked me up as a character.  I love how he liked to pick on Arin, and naming the tiger cub they found Arin was the cutest thing.
One thing about this book that really gripped me was the development between Kestrel and her father.  I don't want to spoil anything that happens but just know that it really tears at your heartstrings in more ways than one!
I really enjoyed this sequel and I loved the setup for the final book in the trilogy.
4 Stars