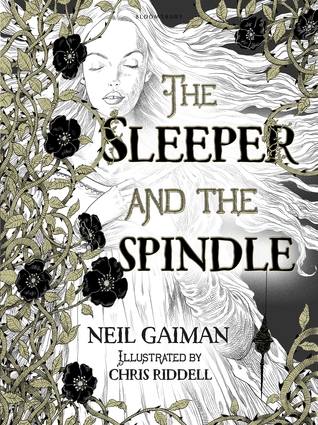 The Sleeper and the Spindle by Neil Gaiman
Published October 23rd 2014 by Bloomsbury Publishing
69 Pages
Goodreads Summary: A thrillingly reimagined fairy tale from the truly magical combination of author Neil Gaiman and illustrator Chris Riddell – weaving together a sort-of Snow White and an almost Sleeping Beauty with a thread of dark magic, which will hold readers spellbound from start to finish.
On the eve of her wedding, a young queen sets out to rescue a princess from an enchantment. She casts aside her fine wedding clothes, takes her chain mail and her sword and follows her brave dwarf retainers into the tunnels under the mountain towards the sleeping kingdom. This queen will decide her own future – and the princess who needs rescuing is not quite what she seems. Twisting together the familiar and the new, this perfectly delicious, captivating and darkly funny tale shows its creators at the peak of their talents.
Lavishly produced, packed with glorious Chris Riddell illustrations enhanced with metallic ink, this is a spectacular and magical gift.
Review: As it says in the summary, this was a fairy tale reimagining that weaved together the stories of Snow White and Sleeping Beauty.  The illustrations in this book were fantastic.  They were done in black and white with some added spots of metallic gold ink.  The character based on Snow White was a definitely a strong queen who has no doubts about running off to rescue the princess in distress in the neighboring sleeping kingdom.  I loved how it portrayed that women don't need men to get them out of tricky situations.  We are equally as capable.  I really enjoyed this quick read.
4 Stars
---
Coraline by Neil Gaiman
Published April 24th 2012 by HarperCollins (first published 2002)
160 Pages
Goodreads Summary: "Coraline discovered the door a little while after they moved into the house. . . ."
When Coraline steps through a door to find another house strangely similar to her own (only better), things seem marvelous.
But there's another mother there, and another father, and they want her to stay and be their little girl. They want to change her and never let her go.
Coraline will have to fight with all her wit and courage if she is to save herself and return to her ordinary life.
Celebrating ten years of Neil Gaiman's first modern classic for young readers, this edition is enriched with a brand-new foreword from the author, a reader's guide, and more.
Review: The big theme in this book, at least in my opinion, is that the grass isn't always greener on the other side.  In fact, the other side can be quite terrifying!  Coraline is feeling bored and a little left out by her parents who seem to spend most of their time working.  School is still out for the summer so to pass the time, she discovers this passageway.  The passageway leads to an alternate universe of sorts where her parents are extremely attentive, even overly so.  Eventually she starts to realize that this is not what she wanted at all and that's where the terror begins.  Although this book wasn't really scary, it did have it's moments.  I loved Gaiman's imagery and attention to detail.  My favorite character was probably the cat.  Who doesn't want a talking cat?!
4 Stars