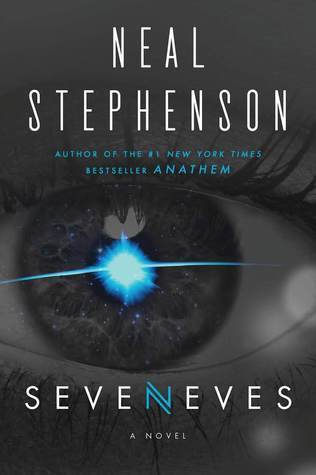 Seveneves by Neal Stephenson
Published May 19th 2015 by William Morrow
881 Pages
Goodreads Summary: A catastrophic event renders the earth a ticking time bomb. In a feverish race against the inevitable, nations around the globe band together to devise an ambitious plan to ensure the survival of humanity far beyond our atmosphere, in outer space.
But the complexities and unpredictability of human nature coupled with unforeseen challenges and dangers threaten the intrepid pioneers, until only a handful of survivors remain . . .
Five thousand years later, their progeny—seven distinct races now three billion strong—embark on yet another audacious journey into the unknown . . . to an alien world utterly transformed by cataclysm and time: Earth.
Review: Wow!  This book was 100% awesome!  I don't normally go for heavy sci-fi/space books but it came very highly recommended by Bird so I knew I had to give it a chance.  At first the amount of scientific and technical jargon was a bit over my head but I stuck with it and became hooked.  I even started to enjoy the parts of the book where Stephenson would explain things.
My favorite character was definitely Dinah.  She came from such an interesting background and she had such a strong personality.  I really loved the scenes with her and Ivy.  In a way, they kind of reminded me of Meredith and Christina from Grey's Anatomy.
I think my favorite part of the book was the lead up and aftereffects of the Hard Rain.  So much crazy stuff happens including some moments where my jaw literally dropped!  The five thousand years later part was good, but I missed my characters from the beginning of the book.  There were some dull moments in the last part of the book but there were some exciting revelations and twists as well.
Overall, I really loved this book and will definitely be adding it to my list of books I want to add to my physical collection.  I think I may have found a new favorite author.
5 Stars