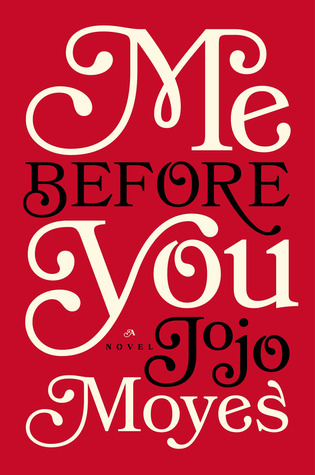 Me Before You by Jojo Moyes
Published December 31st 2012 by Pamela Dorman Books/Viking (first published January 5th 2012)
369 Pages
Goodreads Summary: Lou Clark knows lots of things. She knows how many footsteps there are between the bus stop and home. She knows she likes working in The Buttered Bun tea shop and she knows she might not love her boyfriend Patrick.
What Lou doesn't know is she's about to lose her job or that knowing what's coming is what keeps her sane.
Will Traynor knows his motorcycle accident took away his desire to live. He knows everything feels very small and rather joyless now and he knows exactly how he's going to put a stop to that.
What Will doesn't know is that Lou is about to burst into his world in a riot of colour. And neither of them knows they're going to change the other for all time.
Review: Wow! I haven't felt that emotionally charged from a book in quite some time. So moving and heartbreaking. I spent the last 30 pages with tears in my eyes.  I loved Lou's spunky character and odd sense of style.  She was such a unique person.  It's not hard to see why she was able to break through Will's icy exterior.  The one character I could not stand in this book was Lou's boyfriend, Patrick.  What a selfish SOB!  I could barely keep my cool when he was on the pages I was reading.  This book is such a heavy read and you can't help but be taken hold of by the emotions flowing out of the pages.
5/5 Stars