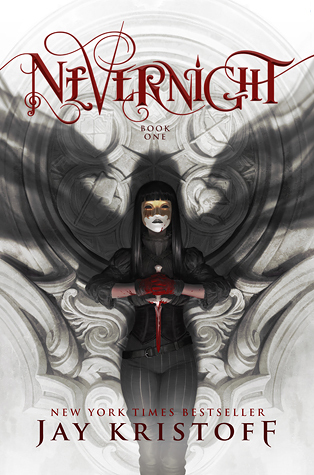 Title: Nevernight by Jay Kristoff
Expected publication: August 9th 2016 by Thomas Dunne Books
448 Pages
Goodreads Summary: In a land where three suns almost never set, a fledgling killer joins a school of assassins, seeking vengeance against the powers who destroyed her family.
Daughter of an executed traitor, Mia Corvere is barely able to escape her father's failed rebellion with her life. Alone and friendless, she hides in a city built from the bones of a dead god, hunted by the Senate and her father's former comrades. But her gift for speaking with the shadows leads her to the door of a retired killer, and a future she never imagined.
Now, Mia is apprenticed to the deadliest flock of assassins in the entire Republic—the Red Church. If she bests her fellow students in contests of steel, poison and the subtle arts, she'll be inducted among the Blades of the Lady of Blessed Murder, and one step closer to the vengeance she desires. But a killer is loose within the Church's halls, the bloody secrets of Mia's past return to haunt her, and a plot to bring down the entire congregation is unfolding in the shadows she so loves.
Will she even survive to initiation, let alone have her revenge?
Review: I received this ARC through NetGalley in exchange for an honest review.
After reading Illuminae by Jay Kristoff and Amie Kaufman last fall, I was completely blown away and want to read everything that these two put out.  So when I heard about Nevernight, I knew I had to get my hands on it ASAP!  I was lucky enough to be approved for an eARC by the publisher.  In fact, I believe I squealed for joy when I found out I was approved!  Once I started reading, I was hooked immediately.  I don't think that I was expecting there to be a humorous aspect to it and I loved it!  I'm having a hard time with this review because all I want to do is gush! The writing style is unique for a novel in that there are chapter endnotes.  They were a little difficult to read with an ebook copy but I'm sure once I get my physical copies (that's right, plural) it will be much better.  I loved Mia's snarky attitude and her banter with Mister Kindly… perfection.  The world that Kristoff has created is so fascinating!  Itreya and the layout of Godsgrave is genius.  Check out the awesome maps here!  The Red Church seems so eerie and made my skin crawl a little bit, but in a good way.  The perfect setting for those dedicated assassins.  One of my favorite things about this book were the unexpected twists!  Things are definitely not as they seem!  There was one twist towards the end that had my jaw dropped for awhile.  I could not believe what happened!  Prepare to have your socks knocked off by this killer book!  I can't wait to read it again when I the book is released.
5 stars
Check out Jay Kristoff's website to see the AMAZING special UK editions!  Also, all pre-ordered US editions will be signed!  Only 3 weeks left until the release date!  I have ordered a US copy and the Goldboro special limited edition (red-edged pages).