Top Ten Tuesday is a weekly meme hosted by The Broke and the Bookish.  Each week there is a new topic and this week's topic is: Ten Books Set Outside The US.
I think this is a great topic because so many books are set in the US so it's great to branch out.  And this post is a great way to check out other people's recommendations for books set elsewhere to get more ideas!  The immediate titles that came to mind are a little obvious so I decided to search through my Goodreads ratings and pick others.  I'm also going with one book per country.
A Farewell to Arms by Ernest Hemingway – ITALY – I read this book a few years ago and it is probably my favorite Hemingway novel to date.  It takes place during WWI.
Atonement by Ian McEwan – ENGLAND – I've read this book once and seen the movie a few times.  It is a heartbreaking, and even maddening (Damn you, Briony!) story.  Definitely worth a read!
Girl With A Pearl Earring by Tracy Chevalier – NETHERLANDS – I had seen this book around for years but never picked it up until last year and I absolutely loved it.  I loved how the author took a famous painting and created a narrative of how that painting came to be and who the girl in the painting was.
Outlander by Diana Gabaldon – SCOTLAND – Okay, I know this one is totally obvious for me to have chosen… But what can I say, I love the book!  I never really had an interest in Scottish history before reading this book but now I'm completely fascinated by it.  This book is so much more than a romance.
The Girl with the Dragon Tattoo by Stieg Larsson – SWEDEN – When I initially began reading this book, I was bored to tears.  But once it got past page 30, I was hooked.  I devoured the rest of the series.  Lisbeth Salander is such an awesome character!  So unique.
Circle of Friends by Maeve Binchy – IRELAND – One of my favorite books and movies just so happens to take place in my favorite country!  I think almost anyone can relate to this story of a group of friends who grew up together.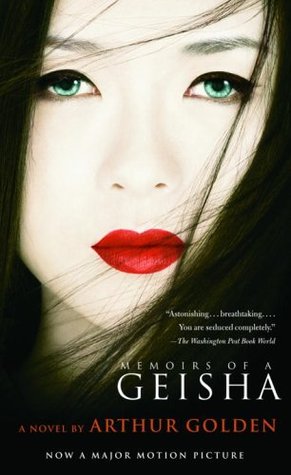 Memoirs of a Geisha by Arthur Golden – JAPAN – I have loved this movie for a long time and when I finally read the book last year, it made me love the story even more.  The writing is beautiful.
The Accidental Empress by Allison Pataki – AUSTRIA – This is the story of the woman who  becomes the Austro-Hungarian Empress and wife of Emperor Franz Joseph.  I love getting a look at historical heroines like this and I had never read one about Sisi before.
Night by Elie Wiesel – POLAND – This short book is probably one of the most intense books I have ever read in my life.  I have always been interested in the Holocaust because it is just so baffling that one human being could do the things that happened to another human being.  Fair warning if you have not read this book before… it is very hard to read so make sure you're mentally prepared.
Into Thin Air by Jon Krakauer – NEPAL – The majority of this book takes place in Nepal on Mount Everest.  Krakauer gives his first hand account of what happened during the May 1996 disaster on the mountain.  People from all over the world died on the mountain during the disaster.  As with any disaster of this kind, there are some controversies around what actually happened.  This is just one account.  Another was written by Anatoli Boukreev who was also on the mountain.  I have not yet read that one but I have it in my collection to read.
---
What are some of your favorite books set outside the US?