Shelf Control is a weekly feature from Bookshelf Fantasies!  The goal is to take a look at the books that are already released that you own but have not read yet.  I have MANY that fall under that category so this feature is perfect for me.  Check out Lisa's inaugural post for more details!
---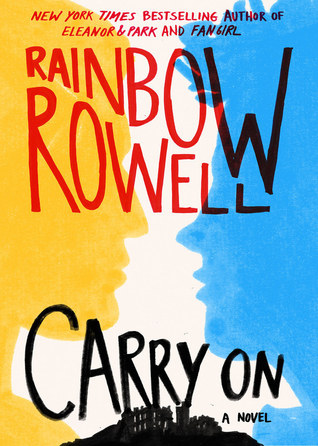 Title: Carry On
Author:  Rainbow Rowell
Published: Published October 6th 2015 by St. Martin's Griffin
Length: 522 Pages
Goodreads Summary: Simon Snow is the worst chosen one who's ever been chosen.
That's what his roommate, Baz, says. And Baz might be evil and a vampire and a complete git, but he's probably right.
Half the time, Simon can't even make his wand work, and the other half, he sets something on fire. His mentor's avoiding him, his girlfriend broke up with him, and there's a magic-eating monster running around wearing Simon's face. Baz would be having a field day with all this, if he were here—it's their last year at the Watford School of Magicks, and Simon's infuriating nemesis didn't even bother to show up.
Carry On is a ghost story, a love story, a mystery and a melodrama. It has just as much kissing and talking as you'd expect from a Rainbow Rowell story—but far, far more monsters.
How I Got It: I bought it.
When I Got It: October 2015
Why I Want To Read It: Rainbow Rowell… Is there anything more to say about it?  Actually I've put off reading this for so long because when I read Fangirl, I skipped most of the fan fiction portions of the book.  I was never really into reading fan fiction and I feel like this is so similar to Harry Potter that I won't like it.  So it has continued to sit on my shelf, unread since it was released.  I still want to read it because I can't help the curiosity and who knows, maybe I will love it!
Have any of you read this book?  What did you think of it?