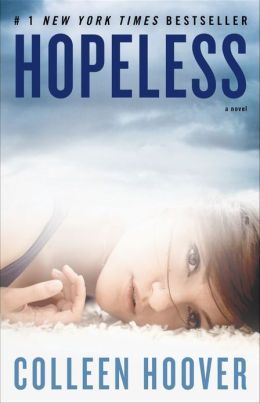 Hopeless by Colleen Hoover (Hopeless #1)
Published May 7th 2013 by Atria Books (first published December 17th 2012)
408 Pages
Goodreads Summary: Sometimes discovering the truth can leave you more hopeless than believing the lies…
That's what seventeen-year-old Sky realizes after she meets Dean Holder. A guy with a reputation that rivals her own and an uncanny ability to invoke feelings in her she's never had before. He terrifies her and captivates her all in the span of just one encounter, and something about the way he makes her feel sparks buried memories from a past that she wishes could just stay buried.
Sky struggles to keep him at a distance knowing he's nothing but trouble, but Holder insists on learning everything about her. After finally caving to his unwavering pursuit, Sky soon finds that Holder isn't at all who he's been claiming to be. When the secrets he's been keeping are finally revealed, every single facet of Sky's life will change forever.
Review: This story was not what I was expecting at all! I was thinking it was going to be more of a simple high school romance with maybe a few small twists. But I should have known it would be so much better than that… It's Colleen Hoover after all! Sky was such a cool character. I loved that she was so spunky and even though she was given a hard time when she started going to the public school, she took it in stride and didn't let the negative people get her down. When she meets Dean Holder, sparks fly which is odd for Sky because while she has fooled around with guys before, she never ever feels anything. When the twists start coming in, you begin to realize just why she never feels anything.  This book is so full of twists and each one I never saw coming! Lots of emotion in this one so be prepared! This wasn't my favorite Colleen Hoover book, but it was still great!
4 Stars