I was tagged for The Netgalley Book Tag by Ashley @ Socially Awkward Bookworm. It looks like a really fun tag.  I use NetGalley fairly often to read and review ARCs and have been approved for some really amazing titles over the past couple of years.
---
Rules:
Link back to the tag's creator (Kourtni Reads)
Thank and link back to the person who tagged you
Answer the questions the best you can. If you don't use NetGalley, you can substitute other sites or places where you get books!
---
Questions:
Auto-Approved: Who's one author whose books you automatically want to read, regardless of what they're about?
I actually have quite a few authors that are always a must read for me.  Diana Gabaldon, Sarah J. Maas, Jay Kristoff, Lauren Bird Horowitz, Colleen Hoover, and Leigh Bardugo to name a few.
---
Request: What makes you want to request a book that you see on NetGalley?
Usually I just scroll through the available books to request and if the cover appeals to me, I'll click on it and read the description.  If it sounds good, I'll request it.  I also will look for titles that I know I want to read for sure on NetGalley and request them immediately.
---
Feedback Ratio: Do you review every book you read? If not, how do you decide what books to review?
I review every single title that I receive through NetGalley.  There have only been two times when that didn't happen.  The first was because I was brand new to using NetGalley and didn't realize that titles archived so I had one that I wasn't able to read it in time to post my feedback. The other time I was approved and the next day when I went to send it to my Kindle, the title had already been approved.  Luckily with that one I happen to be on the street team for the author so I contacted her and she sent me a copy so I was still able to read and review it, just not for credit on NetGalley.
---
Badges: If you could create your own badge to display on your blog, what would it be for?
I think it would be really nice to have badges for the genre you read and review most.  I think that would also help authors and publishers to see that badge on my blog to know the types of books I go for the most.
---
Wish for It: What's one book that you are absolutely dying to read?
Probably my most anticipated book for next year that I really want to get my hands on now is Goodbye Days by Jeff Zentner.  I absolutely loved The Serpent King so I requested a copy of Goodbye Days from the publisher but I never heard back. *Insert crying face here*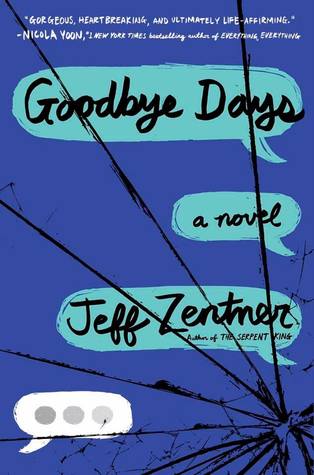 I'm also going to have to copy Ashley a bit and go with the following two titles!  I requested Caraval awhile ago but still haven't heard back.  I've heard so many good things about it and I'm dying to read it.  Also I would love to get my hands on a copy of Carve the Mark.
---
2016 NetGalley Challenge: What was the last book that you received as an ARC that you reviewed? If you've never received an ARC, what's the last book you reviewed?
The last ARC I read and reviewed from NetGalley was Bury the Living by Jodi McIsaac.  My review will actually be going live on Friday because I am a part of the blog tour for the book.  I really enjoyed it! So stay tuned for that review coming up this Friday!
---
I tag anyone who wants to participate!