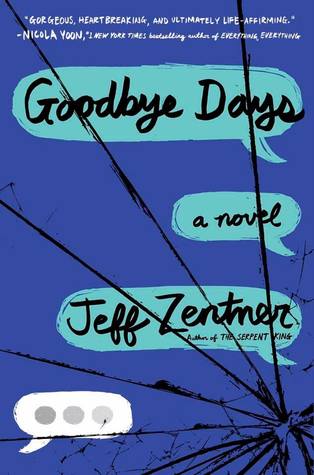 Goodbye Days by Jeff Zentner
Expected publication: March 7th 2017 by Crown Books for Young Readers
416 Pages
Goodreads Summary: Can a text message destroy your life?
Carver Briggs never thought a simple text would cause a fatal crash, killing his three best friends, Mars, Eli, and Blake. Now Carver can't stop blaming himself for the accident and even worse, there could be a criminal investigation into the deaths.
Then Blake's grandmother asks Carver to remember her grandson with a 'goodbye day' together. Carver has his misgivings, but he starts to help the families of his lost friends grieve with their own memorial days, along with Eli's bereaved girlfriend Jesmyn. But not everyone is willing to forgive. Carver's own despair and guilt threatens to pull him under into panic and anxiety as he faces punishment for his terrible mistake. Can the goodbye days really help?
Review: I received a copy of this book in exchange for an honest review.
Last year I fell in love with Jeff Zentner's debut novel, The Serpent King.  So when I heard about his book that would be releasing this year, I immediately added it to my list of books to preorder.  When a sneak peak was released a few weeks ago, I devoured it all the while trying not to cry on my lunch break at work. After reading those first few chapters, I knew I was in for a rough ride.  I'm not even quite sure how to write this review.  Any book that tugs on your emotions as hard as this one is definitely a book you need in your life.  Zentner's writing is so beautiful and although I have never been to Nashville I could easily picture the places described in this book.  Carver was such an endearing main character.  Throughout the novel he struggles with his three best friends being dead and feeling guilt about how they died.  The three boys had been killed in a car accident that appeared to be caused by texting while driving.  This subject is so devastating that it makes it hard to read.  I think I had tears in my eyes more often than not while reading. I felt as though my heart was constantly breaking.  I did have some laughs when Carver would flashback to funny memories he had with his friends.  This book will definitely make you realize that the lives we have are finite and not to take things for granted, no matter how small they may seem.
5 Stars
P.S. Don't text and drive.  No text message is important enough to risk your own life or the life of others.  Be safe people. 🙂