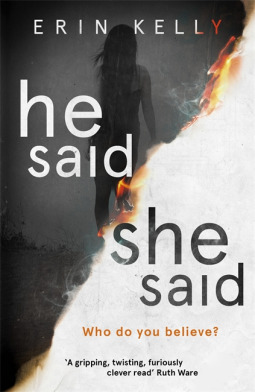 He Said/She Said by Erin Kelly
Published April 20th 2017 by Hodder & Stoughton
416 Pages
Goodreads Summary: In the hushed aftermath of a total eclipse, Laura witnesses a brutal attack. She and her boyfriend Kit call the police, and in that moment, it is not only the victim's life that is changed forever. Fifteen years on, Laura and Kit live in fear, and while Laura knows she was right to speak out, the events that follow have taught her that you can never see the whole picture: something, and someone, is always in the dark.
Review: I received a copy of this book through NetGalley in exchange for an honest review.
This book frustrated me to no end. I really don't understand all of the 4 & 5 star reviews on this one. I mean, to each their own but man. I just couldn't take it anymore. I decided to DNF this book @68% so I feel like I gave it enough of a shot. I'm really not even sure what to rate this one so I'm not going to. Some minor spoilers ahead here so proceed at your own risk if you're interested in reading this one. I do seem to be in the minority in my opinion so take my review with a grain of salt.
—————————————————————————————————————————————
The two main characters, especially Laura was just so naive and stubborn to the point of stupidity. Beth obviously had some issues and Kit could see that but for whatever reason Laura just refused to see it, which ended up putting both she and Kit in danger. There were so many clues that Laura did not pick on up that Beth was on the fast train to crazy town. And yet she continued to let her stay at their flat and hang out with her, feeling the need to apologize if they had a quarrel…. Not to mention that having her around has made Kit extremely uncomfortable and considering it's his flat too it's insane to me that she wouldn't take his feelings into consideration until something dire happened. I also didn't really get the whole eclipse chasing thing… Where on earth are these two getting the money to traipse all over the world chasing total eclipses? Just unrealistic. According to others' reviews, there is a pretty epic twist towards the end but I found myself not even caring anymore to find out.