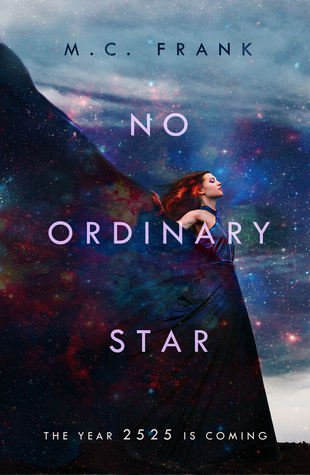 No Ordinary Star by M.C. Frank (No Ordinary Star #1)
Published November 25th 2015 by Createspace (first published 2015)
150 Pages
Goodreads Summary: A soldier is summoned to the North Pole, days before the year changes, told to fix the great Clock for a celebration. He has no idea what to do.
A girl, hunted for the crime of being born, almost dies out on the ice. She is rescued by the last polar bear left alive.
A library waits for them both, a library built over a span of a hundred years, forgotten in the basement of an ice shack.
The world hasn't known hunger or sickness in hundreds of years. It has also forgotten love and beauty.
The year is 2525.
Inspired by the short stories of Ray Bradbury, this futuristic novel is set in a world where Christmas -among other things- is obsolete and a Clock is what keeps the fragile balance of peace.
Written in three installments, this is the breathtaking and sensual story of how two unlikely people change the world, and each other, one book at a time.
Immerse yourself into the icy cold world of this scorching hot new novel.
Review: What initially drew me to this series was the gorgeous covers, but what I really loved about this book was that the beauty was more than skin deep. The author paints such a vivid picture of what this world looks like that I had no trouble visualizing this entire first part. I am so completely fascinated by this futuristic world in which people don't need to eat food, or sleep; where men are raised by android's they call "mothers" to become the ultimate soldiers and the women and girls are kept completely separate. It felt so real that it gave me goosebumps to think about. Felix is literally the best soldier the chairman has ever had… and yet there is something different. When he goes off to the north after receiving a message from the mysterious Clockmaster, you can tell that something incredible is going to happen. Enter Astra. Felix has never been this close to a female before but the more time they spend together, the more they learn that perhaps their world isn't quite right. I don't want to add much more about the plot because it's so fun discovering those things on your own. I was completely captivated by Astra and Felix, and really enjoyed seeing them both discover new things. By the time I got to the end of the book, I knew I needed the next installment as soon as I could get my hands on it. That cliffhanger! I can't wait to see what happens in their story next.
I received a copy of this book from the author in exchange for an honest review.
5 Stars