Hey everyone!!!  It's hard to believe that 2017 has come to an end!  It's been a crazy year in more ways than one, and a disastrous year in other ways.  I'm hoping that 2018 calms down a bit to give us all a breather after this past year.
On the reading front, this has been my slowest year since 2013.  There has been so much going on in my personal life and pair that up with a reading AND blogging slump and you've got yourself a slow reading year.  But I'm actually okay with that because I think I needed a little break and take things easier.  This post is going to be a little different than my usual year end wrap ups because at the end of last year I found out about this great spreadsheet that keeps track of a lot of data that I thought would be really interesting to keep track of and easily sort.  I don't quite remember how I found it but I'm going to share the link to the blog post to both give credit to the creator and give you more info on it if you want to try it for yourself next year 🙂  The post can be found here by Carina at All About Books who you may recognize from bookstagram as @xcrini.  I seriously love this spreadsheet and already have mine set up for next year.  So anyways, I'm going to start off the post with some stats I've pulled from the spreadsheet and share some screenshots from the spreadsheet.  Then I will finish off the post with the annual year end review questions from Jamie @ The Perpetual Page Turner.
---
---
Number Of Books You Read: 102
Number of Re-Reads: 28
Genre You Read The Most From: Fantasy (45)
1. Best Book You Read In 2017?
Strange the Dreamer by Laini Taylor, hands down, no question!
2. Book You Were Excited About & Thought You Were Going To Love More But Didn't?
All the Crooked Saints by Maggie Stiefvater – So unfortunate about this one.  I was really excited about it but it actually ended up being a DNF for me.  I may try it again as I was on the verge of a slump when I read it but we'll see.
 3. Most surprising (in a good way or bad way) book you read?  
The Rules of Magic by Alice Hoffman – I was surprised by this one in a good way!  For years I have loved the movie Practical Magic but when I read the book by Alice Hoffman, I hated it. It was so dull and very different from the book.  I requested The Rules of Magic from NetGalley just to give this author another chance and ended up really enjoying this prequel to Practical Magic!
 4. Book You "Pushed" The Most People To Read (And They Did)?

Strange the Dreamer by Laini Taylor – I have gushed about this book so much since I first read it.  I think maybe 1 or 2 have read them and the rest have added it to their TBR so I will think of it as a success!
 5. Best series you started in 2017? Best Sequel of 2017? Best Series Ender of 2017?

Best series started: Strange the Dreamer by Laini Taylor
Best sequel: Godsgrave by Jay Kristoff
Best series ender: A Conjuring of Light by VE Schwab
 6. Favorite new author you discovered in 2017?
Laini Taylor. My first encounter with her was Strange the Dreamer, and I loved it so much I had to immediately go and start her other trilogy, Daughter of Smoke and Bone… SO GOOD!
7. Best book from a genre you don't typically read/was out of your comfort zone?

Dark Matter by Blake Crouch – I don't read a lot of science fiction because sometimes the technical jargon tends to go right over my head however, Dark Matter completely blew me away!  I had heard from so many people how great it was and it totally lived up to the hype.
 8. Most action-packed/thrilling/unputdownable book of the year?

A Court of Wings and Ruin by Sarah J. Maas – I've mentioned before how fast my heart was beating for so much of this book.  My Fitbit actually showed active minutes for this haha!  Here are my Goodreads status updates to show just how unputdownable it was!
 9. Book You Read In 2017 That You Are Most Likely To Re-Read Next Year?
I actually have plans to re-read a lot of books in 2018 but one of the main ones I plan to re-read is Drums of Autumn by Diana Gabaldon for my third time through.  I want a refresh before season 4 airs next fall and I'm kind of doing a buddy read with my friend who is on her first time through the books.
10. Favorite cover of a book you read in 2017?
The UK cover of Strange the Dreamer by Laini Taylor is my ultimate cover love.  The blue is just so gorgeous!  I can't get enough of it.
11. Most memorable character of 2017?

Lazlo Strange from Strange the Dreamer by Laini Taylor.  I think you're going to see a lot of this book on my list this year 🙂  Lazlo is such a kindred spirit.  Book lover, introvert, and willing to overlook someone's differences no matter what.
12. Most beautifully written book read in 2017?
Again….. say it with me…. STRANGE THE DREAMER by LAINI TAYLOR!  I told you that you'd see this one a lot 🙂 A close second would be The Bear and the Nightingale by Katherine Arden.
13. Most Thought-Provoking/Life-Changing Book of 2017?

14. Book you can't believe you waited UNTIL 2017 to finally read? 
The Bone Season by Samantha Shannon – I don't know why I put this one off for so long but I am so glad I was able to read the first three books of the series back to back.
15. Favorite Passage/Quote From A Book You Read In 2017?
"You're a storyteller. Dream up something wild and improbable," she pleaded. "Something beautiful and full of monsters."
"Beautiful and full of monsters?"
"All the best stories are."
― Laini Taylor, Strange the Dreamer
16.Shortest & Longest Book You Read In 2017?
Shortest: On the Merits of Unnaturalness by Jaxon Hall (Samantha Shannon) – 37 pages
Longest: A Breath of Snow and Ashes by Diana Gabaldon (Outlander #6) – 997 pages
17. Book That Shocked You The Most

Godsgrave by Jay Kristoff – HOLY CLIFFHANGER! I was seriously floored by those revelations at the end of this amazing book!  I need the next book now!
18. OTP OF THE YEAR (you will go down with this ship!)

Forever and always…. Jamie and Claire Fraser from the OUTLANDER series by DIANA GABALDON.
19. Favorite Non-Romantic Relationship Of The Year
The friendship between Karou and Zuzanna from the DAUGHTER OF SMOKE AND BONE series by LAINI TAYLOR is total friendship goals.  Their relationship is so strong and so special. They would literally do anything for each other.
20. Favorite Book You Read in 2017 From An Author You've Read Previously
WRITTEN IN MY OWN HEART'S BLOOD by DIANA GABALDON – The latest book in the Outlander series and I finally got around to it.  I loved it so much. And that ending had me teared up and so, so eager for book 9.
21. Best Book You Read In 2017 That You Read Based SOLELY On A Recommendation From Somebody Else/Peer Pressure:
22. Newest fictional crush from a book you read in 2017?
Warden from THE BONE SEASON by SAMANTHA SHANNON.  Hands down.
23. Best 2017 debut you read?
THE BEAR AND THE NIGHTINGALE by KATHERINE ARDEN – Guys, this book was so good and beautifully written.  I loved the atmosphere and Vasya, the main character, so spunky.
24. Best Worldbuilding/Most Vivid Setting You Read This Year?
And we're back to STRANGE THE DREAMER by LAINI TAYLOR for this one! As I'm reading a book, I see images in my head of how I picture the setting and the way Laini Taylor wrote this book made it so easy to do that.  Some of the most clear images in my head I've ever had from reading and just so fantastic.
25. Book That Put A Smile On Your Face/Was The Most FUN To Read?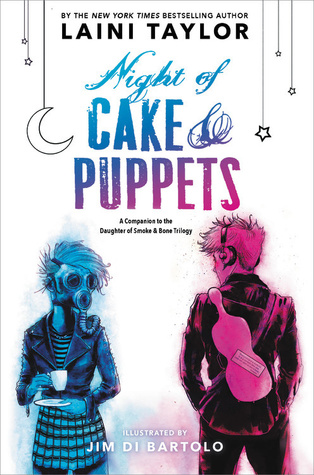 Night of Cake and Puppets by Laini Taylor, illustrated by Jim Di Bartolo – This little novella filled with awesome illustrations was absolute perfection.  I was so giddy reading this book!
26. Book That Made You Cry Or Nearly Cry in 2017?
WRITTEN IN MY OWN HEART'S BLOOD by DIANA GABALDON – There were a few almost tears in this one but there was one scene in particular that completely had me in tears. When I read it in print earlier this year I had to stop reading for a little bit and when I did an audiobook re-read I had to brace myself when I knew this part was coming up.
27. Hidden Gem Of The Year?
Renegade Red by Lauren Bird Horowitz – This sequel to Shattered Blue was so incredible! So much action and edge-of-your-seat intensity!
28. Book That Crushed Your Soul?
Hmmmm…. I don't know if I had any that qualified for this category.
29. Most Unique Book You Read In 2017?
30. Book That Made You The Most Mad (doesn't necessarily mean you didn't like it)?
It didn't really make me mad, just annoyed me… Year One by Nora Roberts.
1. New favorite book blog you discovered in 2017?
I had a pretty lazy blog attitude this year so I didn't discover any new blogs this year as far as I can remember.
2. Favorite review that you wrote in 2017?
My review for Godsgrave by Jay Kristoff!  I actually had a lot to say for once!
3. Best discussion/non-review post you had on your blog?
My Top Ten Books I've Read In 2017 post actually had a lot of comments on it.  It was fun talking about favorite reads this past year with other people.
4. Best event that you participated in (author signings, festivals, virtual events, memes, etc.)?
This year I didn't really participate in anything. Oops!
5. Best moment of bookish/blogging life in 2017?
Honestly, realizing that I needed a break from both reading and blogging.  I was getting burned out so taking a break was one of the best things I could have done this year.
6. Most challenging thing about blogging or your reading life this year?
Feeling bad about being behind on ARCs and reviews, which ended up making my slump worse.
7. Most Popular Post This Year On Your Blog (whether it be by comments or views)?
Again, my Top Ten Books I've Read In 2017 post had a lot of comments and it also had the most views for the year.
8. Post You Wished Got A Little More Love?
Probably my review of Renegade Red by Lauren Bird Horowitz.  I wish more people knew about this trilogy!  Renegade Red, which is book 2 of The Light Trilogy, was absolutely fantastic and so action-packed!
9. Best bookish discover (book related sites, book stores, etc.)?
Book sleeves by Storybookgirls on Etsy!  She has had so many fun fabrics and the quality is always on point.  I ordered two in January and now I own at least 14 in different sizes and prints from her shop.
10.  Did you complete any reading challenges or goals that you had set for yourself at the beginning of this year?
I completed and surpassed my Goodreads challenge of reading 55 books.  I knew this year was going to be a little crazy with our plans to sell our townhouse and purchase a new house so I set my sights low.
1. One Book You Didn't Get To In 2017 But Will Be Your Number 1 Priority in 2018?
Stalking Jack the Ripper by Kerri Maniscalco – I've been wanting to read this one for a long time and finally just got a copy of it a couple weeks ago along with the sequel.  I'm really looking forward to read them both!
2. Book You Are Most Anticipating For 2018 (non-debut)?
I am seriously excited for LIFEL1K3 by Jay Kristoff!
3. 2018 Debut You Are Most Anticipating?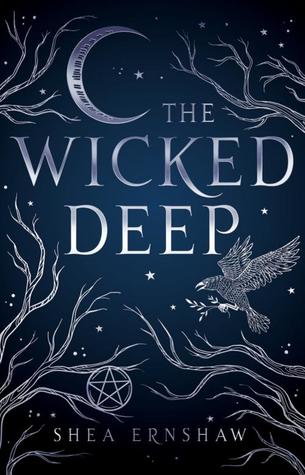 The Wicked Deep by Shea Ernshaw – Practical Magic meets Hocus Pocus…. YES PLEASE!  Plus that cover though…
4. Series Ending/A Sequel You Are Most Anticipating in 2018?
Fingers crossed that The Muse of Nightmares (sequel to Strange the Dreamer) AND the third Nevernight book come out in 2018!!!! I need them ASAP!  I don't see any expected publication dates for either yet so I'm hoping like hell they will be sometime in 2018.
5. One Thing You Hope To Accomplish Or Do In Your Reading/Blogging Life In 2018?
Reading: Get my unread owned books under 50% of my total collection.  Currently sitting at 58.19%
Blogging: Be better about commenting on other blogs. This year I was a total slacker on the blog front but I want to get back in it.
---
How was your 2017 year of books?