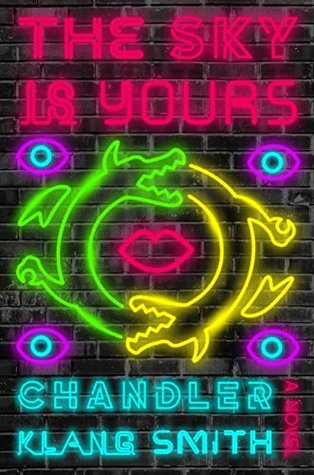 The Sky Is Yours by Chandler Klang Smith
Published January 23rd 2018 by Hogarth
464 Pages
Goodreads Summary: In the burned-out, futuristic city of Empire Island, three young people navigate a crumbling metropolis constantly under threat from a pair of dragons that circle the skies. When violence strikes, reality star Duncan Humphrey Ripple V, the spoiled scion of the metropolis' last dynasty; Baroness Swan Lenore Dahlberg, his tempestuous, death-obsessed betrothed; and Abby, a feral beauty he discovered tossed out with the trash; are forced to flee everything they've ever known. As they wander toward the scalded heart of the city, they face fire, conspiracy, mayhem, unholy drugs, dragon-worshippers, and the monsters lurking inside themselves. In this bombshell of a novel, Chandler Klang Smith has imagined an unimaginable world: scathingly clever and gorgeously strange, The Sky Is Yours is at once faraway and disturbingly familiar, its singular chaos grounded in the universal realities of love, family, and the deeply human desire to survive at all costs.
Review: I give up. I was really intrigued by the synopsis and cover of this book but from almost the moment I began reading this book, I was at a loss. I don't think I have ever disliked a book so much so early on while reading. I hate the characters, the world doesn't make any sense nor anything in it. I set it to the side for a few days hoping to come back to it a few days later just in case but every time I thought about picking it up again, I felt nothing but dread. DNF for me on this one.
I received a review copy through Blogging For Books in exchange for an honest review.