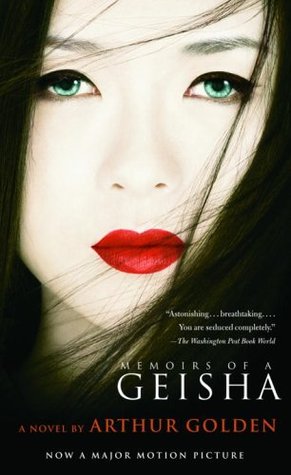 Memoirs of a Geisha by Arthur Golden
Published November 22nd 2005 by Vintage Books USA (first published 1997)
512 Pages
Goodreads Summary: A literary sensation and runaway bestseller, this brilliant debut novel presents with seamless authenticity and exquisite lyricism the true confessions of one of Japan's most celebrated geisha.
In Memoirs of a Geisha, we enter a world where appearances are paramount; where a girl's virginity is auctioned to the highest bidder; where women are trained to beguile the most powerful men; and where love is scorned as illusion. It is a unique and triumphant work of fiction – at once romantic, erotic, suspenseful – and completely unforgettable.
Review: For years I have loved the movie but had never read the book until now.  I was a little nervous because in my recent experience if I watch and love the movie before reading the book I end up not liking the book.  This happened when I read Practical Magic and Witches of East End this year.  Fortunately in this case I did end up liking the book.  Not as much as the movie but still enough that I enjoyed reading it.  There were so many more details in the book that weren't in the movie which is a pretty typical thing with book to movie adaptations.  Unfortunately those details didn't really feel necessary to the story and it made the book drag a little bit.  It was written beautifully but sometimes that also means that things are dragged out with more descriptive words.  I found myself really feeling for Nobu while reading the book.  In the movie I never cared for him because I was too busy rooting for the Chairman and Sayuri.  But while reading I was almost hoping that she would end up with Nobu.  He is a much bigger part of her life in the book than in the movie.  While I liked reading the book, I don't think I will ever read it again.  I liked the movie more and it takes less time to watch the movie than read a 500 page book.
4 Stars