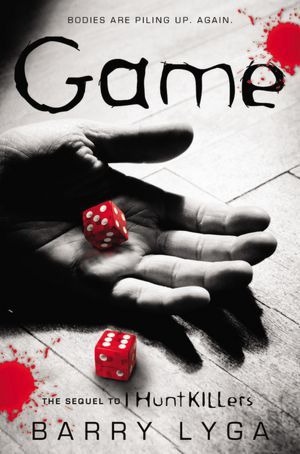 Game by Barry Lyga (Book #2 of the Jasper Dent series)
Published April 16th 2013 by Little, Brown Books for Young Readers
520 Pages
Goodreads Summary: Billy grinned. "Oh, New York," he whispered. "We're gonna have so much fun."
I Hunt Killers introduced the world to Jazz, the son of history's most infamous serial killer, Billy Dent.
In an effort to prove murder didn't run in the family, Jazz teamed with the police in the small town of Lobo's Nod to solve a deadly case. And now, when a determined New York City detective comes knocking on Jazz's door asking for help, he can't say no. The Hat-Dog Killer has the Big Apple–and its police force–running scared. So Jazz and his girlfriend, Connie, hop on a plane to the big city and get swept up in a killer's murderous game.
Review: DO NOT READ THIS REVIEW IF YOU HAVEN'T READ THE FIRST BOOK IN THE SERIES – I HUNT KILLERS.
I was turned onto the Jasper Dent series by Ashley @ Socially Awkward Bookworm.  It is one of her favorite series and after reading the first book, I Hunt Killers, I could definitely see why.  Occasionally I have come across sequels that just don't measure up to the first book.  In this case it was the exact opposite to that.  Game was much better than I Hunt Killers!  I was very pleasantly surprised when I found that I just couldn't put this book down.  Jasper's girlfriend, Connie, plays a bigger role in this book and while I found myself wanting to scream at her through the pages, her part in the story was definitely an exciting addition.  There is so much more thrill to the story now that Billy has escaped prison.  The mystery surrounding the Hat-Dog Killer is so suspenseful.  The entire story keeps you on the edge of your seat.  Jasper's best friend, Howie, adds the comedic touch needed to lighten the mood a bit.  I definitely recommend this book and series to anyone looking for a big thrill ride that will get your adrenaline pumping.
5 Stars