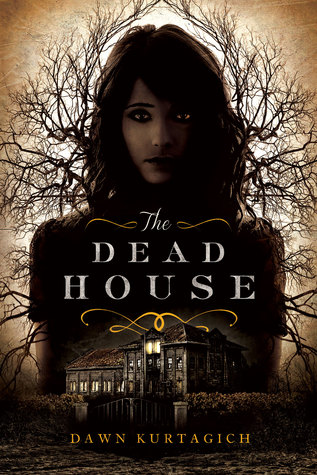 I received this eARC through NetGalley in exchange for an honest review.
The Dead House by Dawn Kurtagich
432 Pages
Expected publication: September 15th 2015 by Little, Brown Books for Young Readers
Goodreads Summary: Over two decades have passed since the fire at Elmbridge High, an inferno that took the lives of three teenagers. Not much was known about the events leading up to the tragedy – only that one student, Carly Johnson, vanished without a trace…
…until a diary is found hidden in the ruins.
But the diary, badly scorched, does not belong to Carly Johnson. It belongs to Kaitlyn Johnson, a girl who shouldn't exist Who was Kaitlyn? Why did she come out only at night? What is her connection to Carly?
The case has been reopened. Police records are being reexamined: psychiatric reports, video footage, text messages, e-mails. And the diary.
The diary that paints a much more sinister version of events than was ever made publicly known.
Reivew: I knew a couple of people that were reading this and thought it was really good and super creepy.  I have been dying for another book to give me the creeps so I requested it on NetGalley and was approved.  I was a little surprised by the format at first but I really liked it and thought it really added to the effect.  There are newspaper clippings, diary entries, video discriptions (with a photo of one of the frames), and interview transcriptions.  There were so many times that I was reading this and got a little scared with a feeling that someone or something was watching me.  The first day I started reading it I made the mistake of reading right before bed.  I had such a hard time falling asleep that night because I couldn't stop thinking about the book and feeling like something was there.  One of the most interesting things besides the creep factor was the thing with Carly and Kaitlyn.  I don't want to give anything away because it pretty much makes up their entire characters.  Besides the creepiness factor, the mystery and thrill of this book makes it an exciting ride.  There was really only one development that I felt like could have added so much more to the story but it was pretty much dropped.  I won't say anything about it besides the fact that it was about Naida, Carly's best friend.  Overall I really liked this book and definitely see myself purchasing a copy in the future.
4/5 Stars
UPDATE: I just went on Amazon and did the Look Inside feature… You guys…. This book looks so AWESOME!!!!  The ebook copy doesn't do it justice.  I totally just pre-ordered it.  It is that cool looking!