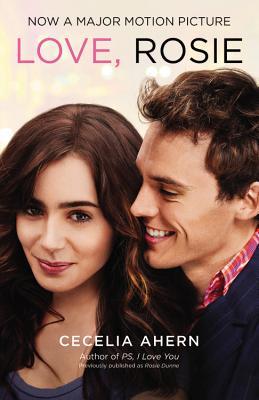 I received this copy through NetGalley in exchange for an honest review.
Love, Rosie by Cecelia Ahern
First Published: November 1, 2004
448 Pages
Goodreads Summary: What happens when two people who are meant to be together can't seem to get it right?
Rosie and Alex are destined for each other, and everyone seems to know it but them. Best friends since childhood, they are separated as teenagers when Alex and his family relocate from Dublin to Boston.
Like two ships always passing in the night, Rosie and Alex stay friends, and though years pass, the two remain firmly attached via emails and letters. Heartbroken, they learn to live without each other. But destiny is a funny thing, and in this novel o f several missed opportunities, Rosie and Alex learn that fate isn't quite done with them yet.
Review: Quite a few years ago I had read P.S. I Love You so I was very excited to find this title on NetGalley!  My excitement ended there.  The book is written as a series of letters and e-mails.  I was hoping it was just going to be that first chapter.  It was cute reading the letters written by young Rosie and Alex.  But when that format continued throughout the entire book… No thanks.  I found that it made it impossible for me to connect to either of the main characters and I found myself skimming more than I would like to admit.  Unfortunately it was enough of an annoyance to me that I decided to not finish the book.  It made me kind of sad because based on the plot summary this was a book I should have loved!  But I just could not get passed the way the book was written.  I guess I'll have to see the movie to find out what happens.  I'll give it 2 stars rather than 1 because I really do think I would have loved this story if the writing style hadn't gotten in the way.
2/5 stars