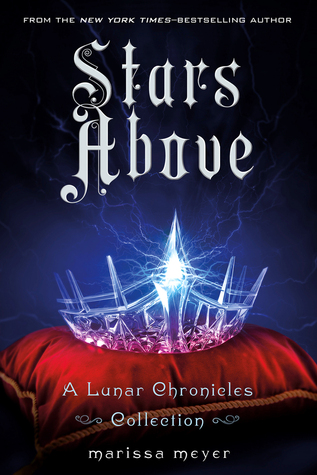 Stars Above by Marissa Meyer
Published February 2nd 2016 by Feiwel & Friends
369 Pages
Goodreads Summary: The enchantment continues….
The universe of the Lunar Chronicles holds stories—and secrets—that are wondrous, vicious, and romantic. How did Cinder first arrive in New Beijing? How did the brooding soldier Wolf transform from young man to killer? When did Princess Winter and the palace guard Jacin realize their destinies?
With nine stories—five of which have never before been published—and an exclusive never-before-seen excerpt from Marissa Meyer's upcoming novel, Heartless, about the Queen of Hearts from Alice in Wonderland, Stars Above is essential for fans of the bestselling and beloved Lunar Chronicles.
—
The Little Android: A retelling of Hans Christian Andersen's "The Little Mermaid," set in the world of The Lunar Chronicles.
Glitches: In this prequel to Cinder, we see the results of the plague play out, and the emotional toll it takes on Cinder. Something that may, or may not, be a glitch….
The Queen's Army: In this prequel to Scarlet, we're introduced to the army Queen Levana is building, and one soldier in particular who will do anything to keep from becoming the monster they want him to be.
Carswell's Guide to Being Lucky: Thirteen-year-old Carswell Thorne has big plans involving a Rampion spaceship and a no-return trip out of Los Angeles.
The Keeper: A prequel to the Lunar Chronicles, showing a young Scarlet and how Princess Selene came into the care of Michelle Benoit.
After Sunshine Passes By: In this prequel to Cress, we see how a nine-year-old Cress ended up alone on a satellite, spying on Earth for Luna.
The Princess and the Guard: In this prequel to Winter, we see a game called The Princess
The Mechanic: In this prequel to Cinder, we see Kai and Cinder's first meeting from Kai's perspective.
Something Old, Something New: In this epilogue to Winter, friends gather for the wedding of the century…
Review: I've mentioned before that I'm not a huge fan of short stories.  But this is for The Lunar Chronicles so I couldn't resist.  I was really hoping to love this collection of stories because of that but to be honest, I was slightly disappointed.  I'll go through each story and review it individually without spoilers.
The Little Android – Based on the title, I had really hoped that this would be a story about Iko.  Everyone loves Iko so a backstory on her would have been a fun read.  However, the android featured in this tale is a character we've never even met before.  This story was a big disappointment to me, even though we did get a glimpse of Cinder in it.
Glitches – This was a really interesting look into Cinder's early life with Garan, Adri, Pearl and Peony.  It's a little bit heartbreaking as well.
The Queen's Army – Seeing a little bit of Wolf's backstory was pretty interesting.  He isn't one of my favorite characters so I didn't particularly connect too well to this one.  It definitely gave you a glimpse at what these young boys were subjected to in order to give Levana her special army.
Carswell's Guide to Being Lucky – This story was really cute.  It seemed a little bit on the cliche side though but I love Thorne so that was okay.  I liked getting a glimpse of what it was like in LA and how it was different from New Beijing.
The Keeper – This was one of my favorite stories in the collection.  I loved getting more of a background on Michelle Benoit and how Cinder came to be in her care.  There were also some interesting revelations about Scarlet in this story too.
After Sunshine Passes By: This story about a young Cress totally broke my heart.  She has the classic need to want to please the adults around her but no matter what she does, she doesn't get the gratification she is looking for.  I felt so bad for her.  Definitely reinforced my opinion that she is my favorite character.
The Princess and the Guard – This little story about Winter and Jacin definitely tugged on the heartstrings.  You get to see what caused Winter to decide to stop using her Lunar gift.
The Mechanic – What I loved most about this story was that it was from Kai's perspective.  I feel like I don't get enough Kai in the books so it was great being able to see his meeting with Cinder from his POV.
Something Old, Something New – There isn't a lot I can say about this story without giving away the whole thing.  I will say that the whole gang is finally back together.  A very cute story and a satisfying end to this wonderful series.
For the most part I enjoyed this collection of short stories… I mean it's The Lunar Chronicles, come on.  But there were just a few disappointments that caused me to send this one off with a star knocked off.
4 Stars