Shelf Control is a weekly feature hosted by Bookshelf Fantasies.  Consider this a variation of a Wishing & Waiting post… but looking at books already available.  Take a look at your shelves and/or Kindle and post about a book you own but haven't read yet.
---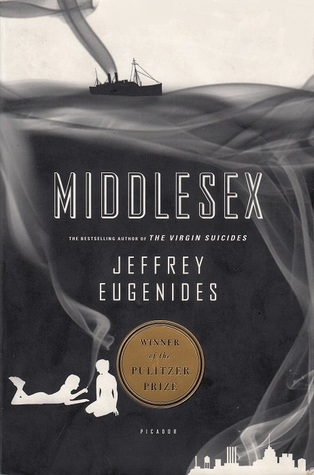 Title: Middlesex
Author:  Jeffrey Eugenides
Published: Published September 16th 2003 by Picador (first published 2002)
Length: 529 Pages
Goodreads Summary: Middlesex tells the breathtaking story of Calliope Stephanides, and three generations of the Greek-American Stephanides family, who travel from a tiny village overlooking Mount Olympus in Asia Minor to Prohibition-era Detroit, witnessing its glory days as the Motor City and the race riots of 1967 before moving out to the tree-lined streets of suburban Grosse Pointe, Michigan. To understand why Calliope is not like other girls, she has to uncover a guilty family secret, and the astonishing genetic history that turns Callie into Cal, one of the most audacious and wondrous narrators in contemporary fiction. Lyrical and thrilling, Middlesex is an exhilarating reinvention of the American epic.
How I Got It: I bought it at my town's annual used book sale.
When I Got It: End of April 2016
Why I Want To Read It: While I just bought this book a month ago, it has been on my TBR since 2009.  My roommate in college had the book (never read it) but it just sounded so intriguing that I have wanted to read it ever since.  I never got around to it but when I saw it on the book sale this year, I had to grab a copy so I could finally have no more excuses to read it.
Have any of you read this book?  What did you think of it?