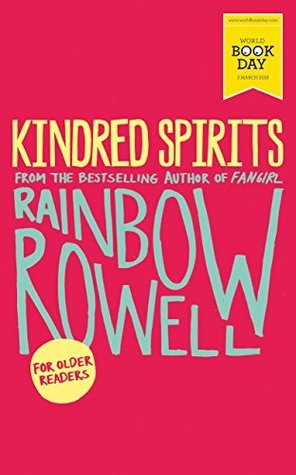 Kindred Spirits by Rainbow Rowell
Published February 25th 2016 by Macmillans Kids UK
96 pages (including an excerpt of another story)
Goodreads Summary: 'Everybody likes everything these days. The whole world is a nerd.'
'Are you mad because other people like Star Wars? Are you mad because people like me like Star Wars?'
'Maybe.'
If you broke Elena's heart, Star Wars would spill out. So when she decides to queue outside her local cinema to see the new movie, she's expecting a celebration with crowds of people who love Han, Luke and Leia just as much as she does. What she's not expecting is to be last in a line of only three people; to have to pee into a collectible Star Wars soda cup behind a dumpster or to meet that unlikely someone who just might truly understand the way she feels. Kindred Spirits is an engaging short story by Rainbow Rowell, author of the bestselling Eleanor & Park, Fangirl and Carry On, and is part of a handful of selected short reads specially produced for World Book Day.
Review: I wasn't always a Star Wars fan.  Not until I was in middle school and the "new" trilogy started to come out.  I saw The Force Awakens with my Star Wars nerd husband and really enjoyed it for the most part while he had more qualms about it because it felt too much like A New Hope for him.  Anyways… I love Rainbow Rowell so I was really excited to read this short story that she wrote for World Book Day.  Since it wasn't going to be available in the US, I preordered it from Book Depository.
The story was only 59 pages so it was really short and didn't take long to read at all.  The main character, Elena, was so cute.  The people that she meets while waiting in line days before the premiere of The Force Awakens are interesting characters.  There were some really funny parts.  I loved how Elena's mom kept driving by the line to check on her and see if she wanted to go home.  Nothing like mother's not completely understanding one's dedication to one's fandom.  The end had me really wanting to read more about Elena.  That's again what I don't like about short stories.  I end up wanting more but not able to get it.  Overall, this was a cute, fun little story.
4 Stars